Are you wanting to know more about Tokyo Disneyland and Disneysea?
After all, Disney Theme Parks are some of the best places to go to if you want to have some fun.
No matter how old you are in life, there are always things you are able to enjoy here at these parks.
And as you know, depending on which Disney Theme Park you choose to go to, you'll experience vastly different experiences in each one.
In this post, we'll be talking about everything there is to know about the Disneyland/Disneysea theme parks in Japan. Because, I know since this place is in a foreign country, there might be many different things that you aren't familiar with or understand.
So to make it easier on you and your family, this post will be extremely detailed so that you can get the most of your money on your next trip to Disney Japan.
Are you ready?
Lets start!
Where Is It Located?
The Disney Theme Park is currently located in Tokyo, Japan.
The exact address is : 1-1 Maihama, Urayasu, Chiba 279-0031, Japan
When Is The Best Time To Visit?
Because this is a theme park, you can most likely expect huge crowds anytime of the year.
However there are certain periods where the crowds are less than others.
For instance, weekdays will probably have less traffic then other days as this is a school/work time so the locals won't be able to come as often.
However if you're going to factor in tourists and locals together, then the least crowded times will be the months of January and February. However the weather might not be the greatest as it is still pretty cold during this time.
If you want to come when the weather is at it's best condition, then October through December will be the time to come. However since this is usually when the weather is the best, you can expect huge lines and heavy crowds all throughout the day.
When To Avoid Coming Here?
There are definitely certain periods when the crowds are going to be crazy. By this I mean that there is going to be too many people here and it won't be enjoyable anymore.
For instance, Japan has a few special holidays that you'll want to take note off to avoid these days. You'll want to avoid Golden Week which is late April through early May, Obon which is mid August.
Not only that, but you'll want to keep a look out for any other national holidays as well.
Basically any time there is a holiday, you can expect long lines and huge crowds.
How To Get To Disneyland/Disneysea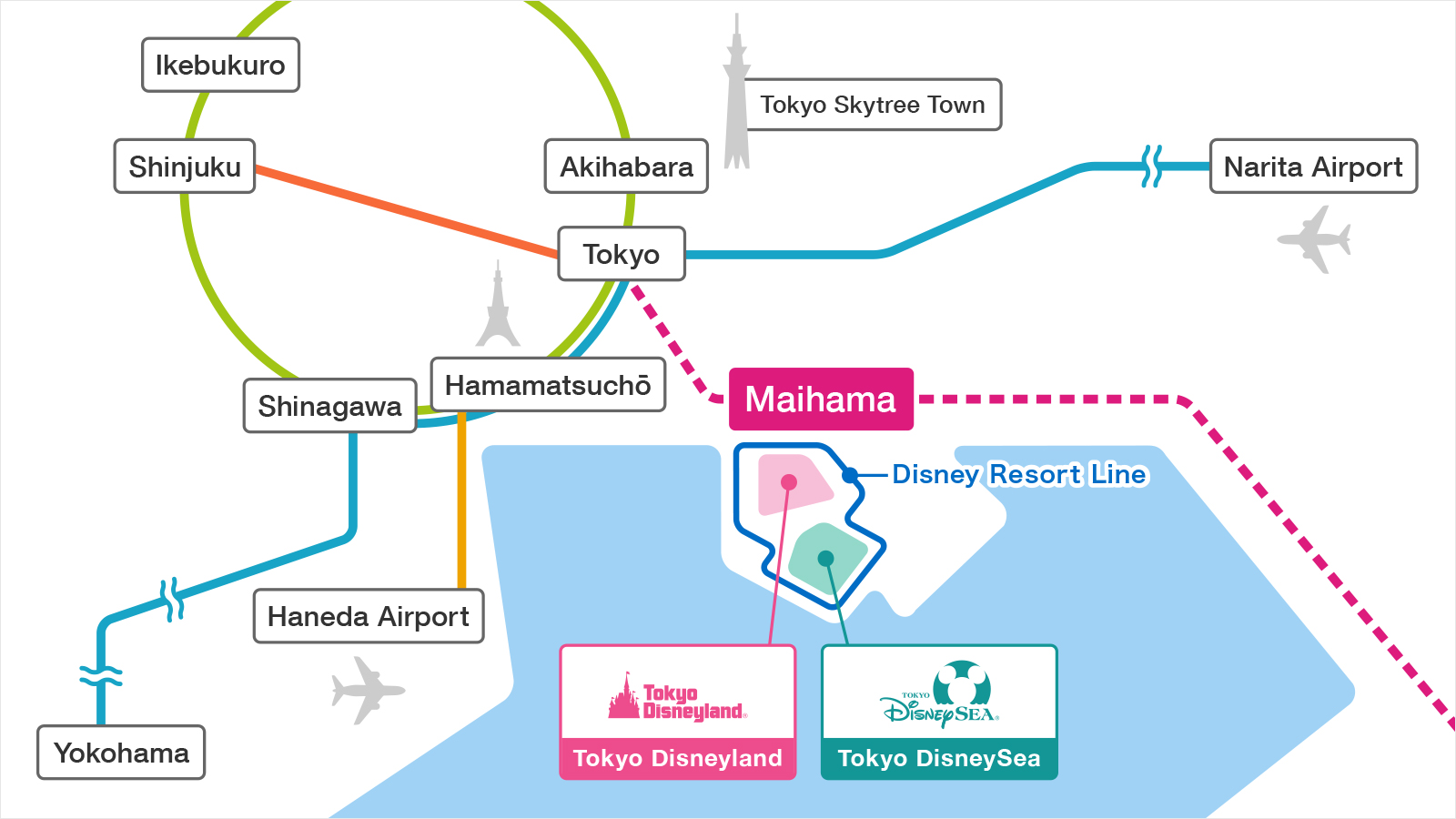 Taken from the Disneyland Website:
Get off at Maihama Station on JR (Japan Railway) Keiyo Line / Musashino Line. Maihama Station is about 15 minutes by train from Tokyo Station.
Shuttle bus service from various locations to Tokyo Disneyland also available.
Where To Stay Near The Park
There are currently 4 hotels located within walking distance of the park.
Tokyo Disneyland Hotel – Located right in front of Tokyo Disneyland. Stay in guest rooms themed to the Disney films, such as Beauty and the Beast and Cinderella.

Disney Ambassador Hotel – Lots of guest rooms featuring the Disney Characters — Mickey, Minnie, Donald, and more! With a restaurant where Guests can meet the Disney friends.

Tokyo DisneySea Hotel MiraCosta – A hotel that's part of a Disney theme park, where Guests enjoy a stay inside Tokyo DisneySea. Find guest rooms with lovely views of the harbor.

Tokyo Disney Celebration Hotel – Be welcomed inside with decorations that call to mind the Disney Parks. The guest rooms feature artwork inspired by the Disney friends and the Park attractions.
How Much Are The Tickets?
| | | | |
| --- | --- | --- | --- |
| Ticket Type | Adult (18 years & older) | Junior (Ages 12-17) | Child (Ages 4-11) |
| 1-Day Passport | ¥8,200 (US$76) | ¥6,900 (US$64) | ¥4,900 (US$45) |
| Senior Passport (Ages 65 & over) | ¥7,600 (US$70) | | |
| 1-Day Passport for Guest with Disabilities | ¥6,600 (US$61) | ¥5,500 (US$51) | ¥3,900 (US$36) |
| 2-Day Passport | ¥14,800 (US$136) | ¥12,600 (US$116) | ¥8,800 (US$81) |
| 3-Day Magic Passport | ¥19,800 (US$183) | ¥16,800 (US$155) | ¥11,800 (US$109) |
| 4-Day Magic Passport | ¥24,800 (US$229) | ¥21,000 (US$194) | ¥14,800 (US$137) |
| Starlight Passport | ¥6,000 (US$55) | ¥5,100 (US$47) | ¥3,600 (US$33) |
| After 6 Passport | ¥4,700 (US$43) | | |
Where To Buy The Ticket
There are a few different places where you can buy the park tickets.
One of which is their official site which you can find by clicking here.
Another place is like a third party site like Klook which will sell the park tickets as well.
Tokyo Disneyland Or Disneysea
Now while both parks are awesome in their own way, unless you are going to be spending two days here, you are most likely going to have to pick between one of them.
This is because your 1 day pass will only allow you to pick 1 part to play in.
So how do you choose?
Tokyo Disneyland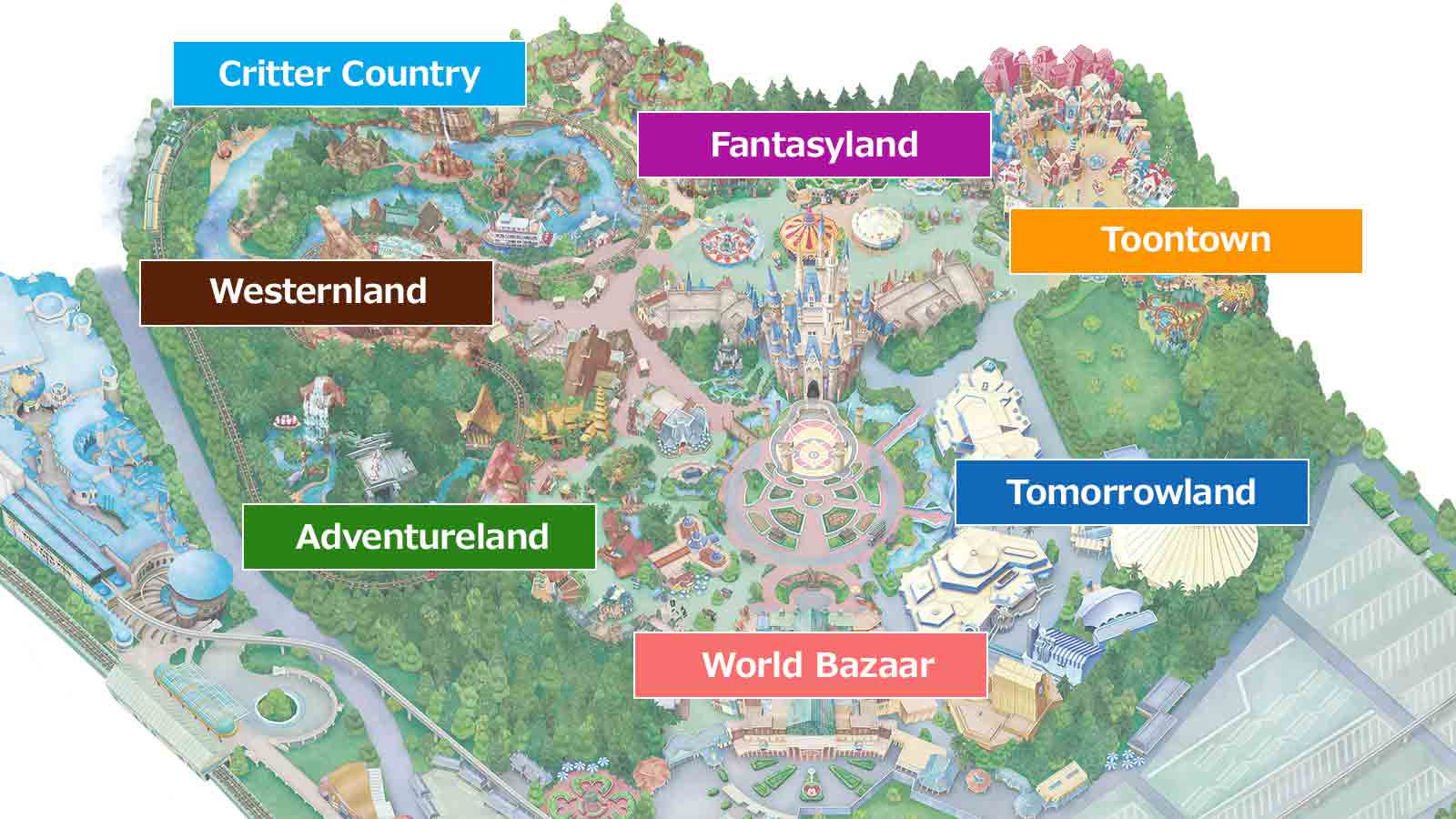 Disneyland is probably the most classic them park of all time. It features all the magical and innovative experience that you can think of. From the amazing rides to the entertainment, its a place where anybody of all ages will love. The shows and parades here are also known to be more extravagant then compared to Disneysea.
It features rides like Big Thunder Mountain, Buzz Lightyears Astro Blasters, Monsters Inc Ride and go Seek, Space Mountain, Splash Mountain, and many other exciting rides you'll love to ride on.
Disneysea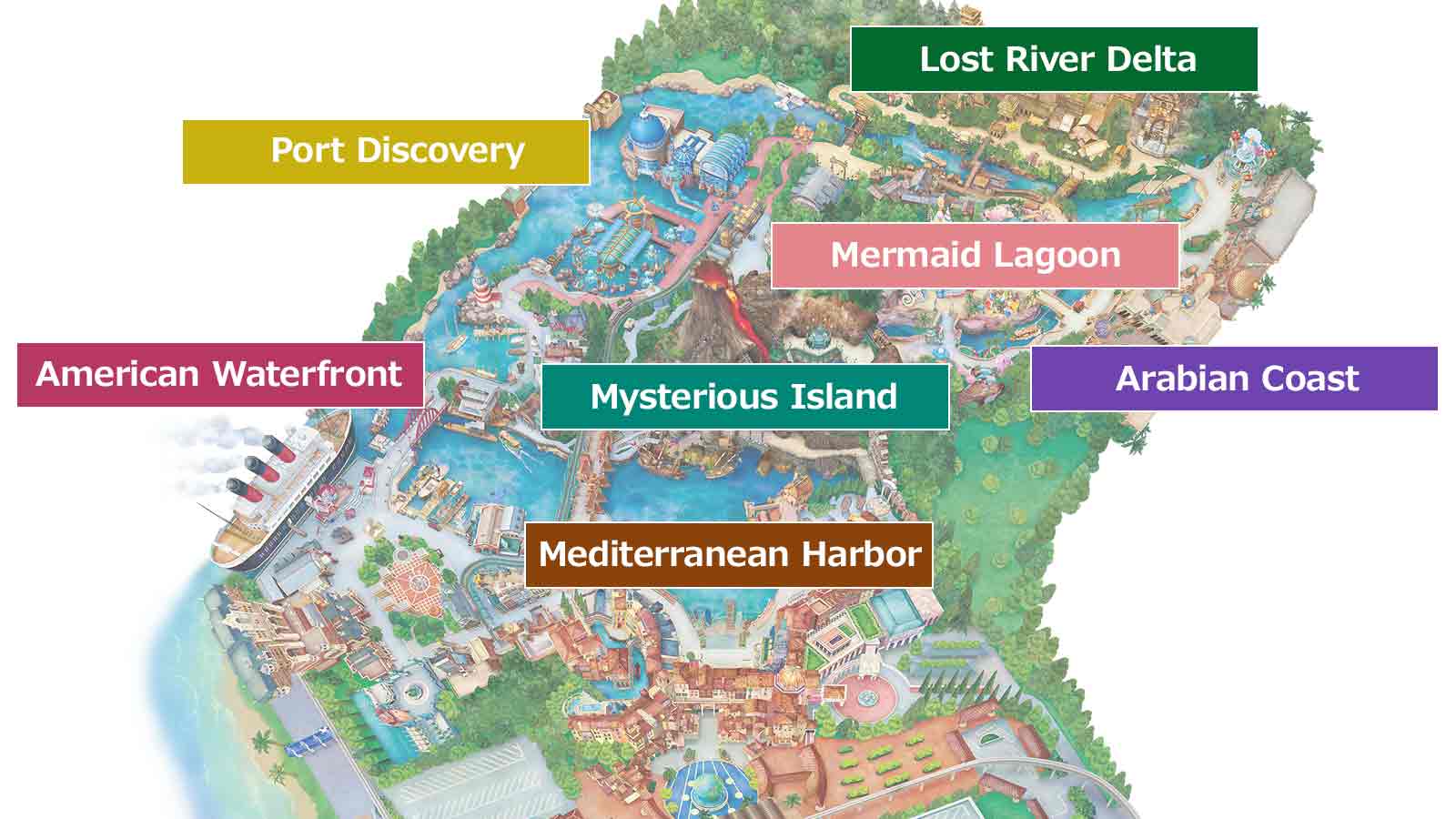 Unlike other Disney theme parks you'll find anywhere around the world, Disneysea is something extremely different. A lot of the park is actually designed for older kids or adults who love fun and thrilling things. But even then, there are still plenty of things for the young ones to enjoy.
It features rides like Toy Story Mania, Nemo and Friends Searider, Raging Spirits, Tower of Terror, Soaring Fantastic Flight, and many other things you'll love.
Fast Pass For Rides
If you have read my Universal Studios Japan Guide, you'll know that there is something called an express pass that lets you skip the line and go straight to your favorite rides.
And just like Universal Studios, Disney also has something similar. The system that Disney uses is called a Fast Pass system that gives every ticket holder the same chance at riding one of the popular rides without having to wait a long time.
Also, the good thing about the Fast Pass for Disney is that you don't have to pay extra for them. They are completely free of cost.
The only thing that you'll have to worry about is that some of the Fast Pass lines are quite long, and depending on how popular it is, it can even take an hour just to get your pass. Plus, you'll also have to worry about the fast pass ticket running out for the popular rides.
But how do you get the Fast Pass?
You are able to find these FASTPASS machine on the side of most of the ride entrances. All you do to get a ticket is to scan the QR code of your e-ticket and you'll get a Fast Pass. The Fast Pass will tell you a designated time period for you to come back so that you can ride the rides without waiting in line.
Do know that you are only allowed 1 Fast Pass Ticket every 2 hours. So you're not able to collect as many as you want. If you try to get a second Fast Pass Ticket before the 2 hour time limit is up, you'll get an error.
Tokyo Disneyland currently has 8 Fast Pass Rides:
Monsters, Inc. Ride & Go Seek!
Pooh's Hunny Hunt
Splash Mountain
Buzz Lightyear's Astro Blasters
Big Thunder Mountain
Haunted Mansion
Space Mountain
Star Tours: The Adventures Continue
Tokyo Disneysea has 11 Fast Pass Rides:
Turtle Talk
Soaring: Fantastic Flight
Nemo & Friends SeaRider
Toy Story Mania!
20,000 Leagues Under The Sea
Indiana Jones Adventure: Temple of the Crystal Skull
Raging Spirits
Journey to the Center of the Earth
Tower of Terror
Mermaid Lagoon Theater
The Magic Lamp Theater
Shows and Entertainment
There are quite a bit of shows going on all around the theme park.
But not all of these shows are easy to get to.
Depending on which show you want to see, some may require you to reserve online for a seat or some may require you to be lucky enough and get a lottery ticket.
You can easily find out which shows need which requirements by clicking here.
If the show you want to see needs a reservation, then you'll have to go to the website and register your spot. However do know that the site is in Japanese, so you'll might have to have the web page translated in order for you to fill in the requirements.
If the show requires you to win a lottery, then you'll have to go to the designated spot and hope you win a ticket.
Common Questions You Might Have
What If It Rains When I Visit?
Tokyo Disneyland and Disneysea will remain open whether it is raining or sun shining.
Plus, you can always bring a raincoat or umbrella with you so that you can stay dry from the rain. Not to mention, some of these you might need since there are several attractions inside that have splash zones where you'll get wet.
Also, in my opinion, it is actually better to come when it is raining. Mainly because there will be a lot less people attending the theme park since they don't want to get wet.
Do note: If you want to buy a raincoat, buy it from a store before you enter inside the Disney park. Because once you enter, the price of a raincoat they sell inside is quite a bit expensive.
Can I Bring Food Inside?
Food is definitely allowed here at the theme park as there are certain areas designated as a picnic area.
Plus there is a New Days convenience store located just outside of Maihama station. So I would advise you if you want to save some money to buy some food at the store first before heading into the park.
Do know that re-entry is allowed, so you are able to leave the park any time to buy some food and then enter back in.
What Is The Refund Policy?
Park tickets cannot be canceled or refunded after purchasing.
However, if you cannot visit the designated Park or come on the designated date, some tickets allow changes to the date or Park.
Is The Park Stroller-Friendly?
Just like any other theme park in the world, Tokyo Disneyland and Disneysea is also a very stroller friendly place as well as family friendly place.
They even offer rental strollers for a day at a price of about 1,000 yen.
Each attraction will also have a place where you can park your strollers. Plus, you don't have to worry about it getting stolen because Japan is extremely safe.
Is There Any Attractions For Small Kids?
Why yes of course! There are quite a few attractions that many small kids will enjoy.
Are you Able To Roam Around The Entire Park In 1 day?
Yes you can! The park itself is definitely big, no matter which side you pick. But you are definitely able to roam around the park in under 1 day.
______
Overall, Disneyland/Disneysea is a lot of fun. You'll definitely get your moneys worth if you come here.
There are simply so many rides and attractions for you to see and do that it'll leave you wanting to come back for more and more.
If you are also interested in a guide about Universal Studio Japan, then click here.
Also, if you are planning to visit Japan anytime soon, you might be interested in some of my other Japan posts.
Or you can check out my complete list of things to do in Japan by clicking here.
Let me know how your trip goes!