What are some of the best things to do in Yilan, Taiwan?
After all, Taiwan is an island that is filled with an abundance amount of things to do.
From the lively culture to the delicious food to even the historic attractions. There is definitely something here for everybody to see and do.
However, there is just one problem.
When most people talk about Taiwan, they are really only talking about one place. That place being the capital city of Taiwan which is Taipei.
When most people come to visit Taiwan, they only visit that one city. Hardly anybody ever goes out of their way and visits the other cities that Taiwan has to offer.
Which I found to be very sad.
Many cities besides Taipei offer their own unique attractions and scenery that will blow your minds away.
One such city is Yilan.
It is a city filled with amazing outdoor adventure as well as a vibrant city culture. It is known for its ample amount of hiking trails, mountain peaks and innumerable natural getaways. Plus the massive forestry surrounding the area is especially worth exploring, particularly as it contains therapeutic hot springs.
Even if you are not interested in all the outdoor adventure life, there are plenty of art venues and major museums located all around the historical towns in the area.
It'll definitely give you an inside look at the Taiwanese way of life and heritage.
Now if you are wondering what there is to do in this amazing city, you are in luck.
In this post, I will talk about the 14 best things you can see and do here in the city of Yilan.
So if you are ready, lets get started!
Things To Do In Yilan, Taiwan
In no particular order, here are the best things to do in Yilan, Taiwan.
Luodong Night Market
If you want to visit one of the best night markets the city has to offer, then there is no better place than the Luodong Night Market. This entire area is lined with street vendors and cafes selling all kinds of interesting and delicious things. It's a great place to do some shopping, eat some delicious foods, or watch some live entertainment.
It makes for a perfect place to hang out and see what the city has to offer.
Lanyang Museum
Lanyang Museum is one of the most famous landmarks in all of Yilan. The building was designed by Kris Yao who is a famous master architect that drew up inspiration from the characteristic cuesta along the Beiguan coast of Toucheng township. This building since completion has won numerous awards and is a representative of a modern building in Yilan.
Aside from the building, inside you are able to find a variety of galleries on display of the local culture of the city. They have interactive exhibitions which enables visitors to immerse themselves in the landscape of Yilan and learn more about the city's culture and history.
Annong River
Annong River is a place that is known for its amazing whitewater rafting venues. Not only that, but because this place is so popular, a number of budget and luxury hotels have been built to accommodate this area.
It also includes a 15 km bike way that runs along the left embankment of the Annong River. While riding along the bikeway, cyclists can enjoy idyllic scenery surrounding the bikeway that is dominated by paddy fields, scallion fields, and luxury cottages, as well as verdant mountain ranges in the distance.
Taipingshan National Forest Recreation Area
Taipingshan National Forest Recreation Area is a place that is built around Mt. Taiping. It is almost 2,000 meters high above sea level and offers many things for you to see and do. The forest surrounding the Mountain is an especially diverse forest with attractions ranging from cypresses to hemlocks and other types of vegetation.
One of the best things about this area is that when you reach the top, you'll be met with an amazing view of the surrounding area. Not only that, but it is also one of the few places in Taiwan where you can actually see snow. This mountain also has some hot spring locations where you can simply relax and unwind in the therapeutic waters.
Overall a wonderful place if you love nature and want to see what it can offer.
Beiguan Tidal Park
Beiguan Tidal Park has had some history behind it. It use to be a defensive pass in the Qing Dynasty so you can still find some ancient cannons laying around (2 in fact).
However, nowadays its been turned into a special tourist attraction because of its special terrain. It is home to special land forms like the tofu rock, cuestas and small capes. Because of the strange rocks located all around, the park naturally boasts a precious coastal landscape.
Not only that, but walking along the coastal steps and sea view pavilions, you'll be able to see some of the best sunrises you'll ever see here in the area.
Chia Chi Lan Wine Museum
Chia Chi Lan Wine Museum is a special place as it is dedicated to all things alcohol. It is located in one of the oldest distilleries in Taiwan and is a must-vist place for those who want to see the historic methods of making wine and preparing it. It also has some neat alcohol related collectibles with souvenirs.
Yilan County Historical Museum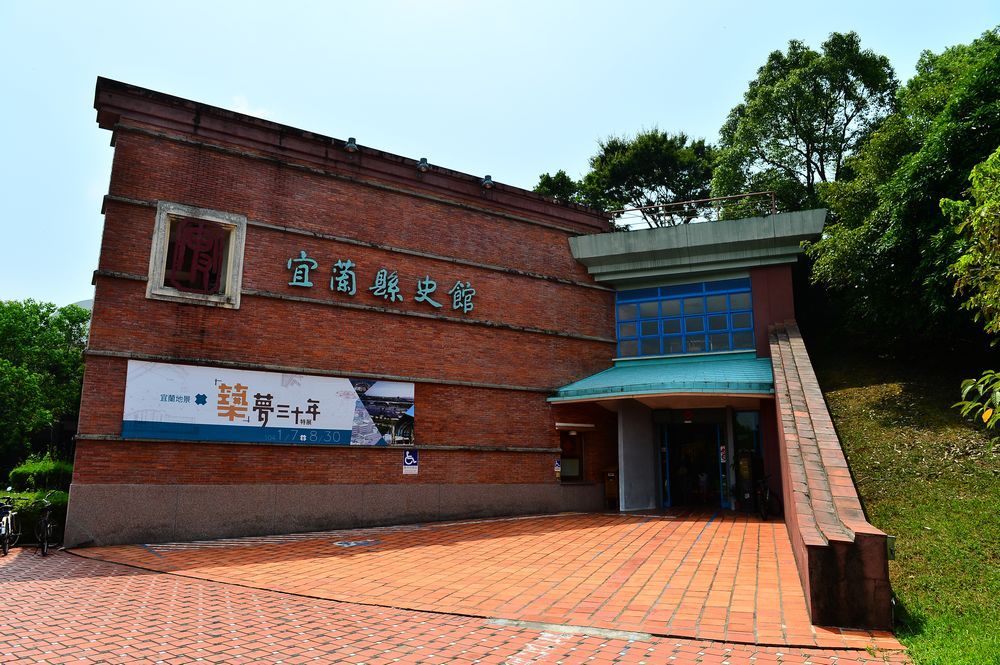 The Yilan County Historical Museum is a great place to some old antique relics and souvenirs dating back to the Japanese colonial era. It'll also give you a chance to see the rich cultural heritage of the city.
Most of the museum is in fact free to visit, except for one area which is the County Prefect's House.
National Center for Traditional Arts
The National Center for Traditional Arts is one of the most important centers of traditional and fine arts in Taiwan. The goal of the center is overall planning, supporting the related research, promoting, preserving, and teaching the traditional arts, and also redefining, renovating, and developing the traditional arts.
It is here where you can shop for souvenirs and other things that are sold along the "Old Street". The entry fee is relatively cheap at about $150NT for adults.
Dong Shan River Water Park
Dong Shan River Water Park is a great way to have some fun as you try to escape from the super hot heat of the summer. The Park is the best equipped outdoor water park in Yilan. Among all, the Water Activities Area and Dongshan River Trip are the most attractive. Visitors can even take the boat from the water park to travel to the Center for Traditional Arts.
It's definitely the place to be if you want to cool yourself off and have some fun.
Kavalan Distillery
Yilan wine is an awesome place as it offers flavors from the Yilan countryside. Here you can find whiskey that is smooth as well as rich and creamy in flavor. It is one of the few distilleries that has continued to rack up awards and praises for it's alcohol (especially the single malts).
Although the distillery is kind of located a bit out of town, it is definitely worth it to come and see all the special alcohol that they produce.
Jiaoxi Hot Spring Park
Jiaoxi Hot Spring Park is an amazing place as it features Japanese style hot spring pools with natural Jiaoxi hot spring water. It can accommodate a total of 200 bathers. The waters here are salt water which are warm, colorless as well as odorless, which makes it an ideal place for bathing.
The Jiaoxi Hot Spring Park offers many clean facilities as well as a comfortable environment where the whole family can relax and unwind as they enjoy the pleasures of bathing.
Luodong Forestry Culture Garden
Luodong Forestry Culture Garden is a place that was formerly known as the Luodong Forest Farm. When the timber production stopped, it was transformed into a culture park to show people the history of forestry in the city. The trees found here are all lush and verdant and you can hear the sounds of thousands of birds singing along in unison as you roam around.
Visitors who come to this special place can get a chance to see old vintage logging buildings, artifacts as well as a steam train that was once used to transport timber.
It's a wonderful place for one to sit down and relax while being one with nature.
Surfing Around
Yilan is also known as the surfing mecca of Taiwan, with strong waves coming in from the Pacific Ocean. This place has really everything you need to have fun and surf around.
One particular harbor which is Suao is also known all over the world for its unique and challenging surfing areas.
Gueishan Island
Gueishan Island is a very popular attraction of Yilan. Mainly because this island is in the shape of a sea turtle due to the many years of volcanic activity.
Although coming to the island is a bit hard as you will need a special permit to visit this place. Not only that, but only a limited amount of people are able to come here. But when you do get here, the sight is amazing. You are able to whale watch from here or roam around the island, but best of all you can watch one of the most beautiful sunrises ever on this island.
______
As you can see, the city of Yilan is a pretty nice place to visit.
Just by looking at this list, you'll find all sorts of things that you can see and do. It is a place rich in history as well as having a vibrant culture.
So hopefully this list will inspire people to travel to other cities in Taiwan besides just the capital.
Also, if you are planning to visit Taiwan anytime soon, you might also be interested in some of my other Taiwan posts.
Or you can check out my complete list of things to do in Taiwan by clicking here.
Let me know how your trip goes!