What are some of the best things to do in Taichung, Taiwan?
After all, Taiwan is an island that is filled with an abundance amount of things to do.
From the lively culture to the delicious food to even the historic attractions. There is definitely something here for everybody to see and do.
However, there is just one problem.
When most people talk about Taiwan, they are really only talking about one place. That place being the capital city of Taiwan which is Taipei.
When most people come to visit Taiwan, they only visit that one city. Hardly anybody ever goes out of their way and visits the other cities that Taiwan has to offer.
Which I found to be very sad.
Many cities besides Taipei offer their own unique attractions and scenery that will blow your minds away.
One such city is Taichung.
It is the second biggest city in all of Taiwan and is famous for its large night markets and lively club scene.
Taichung is also an industrial city located on the western side of central Taiwan.
It's a gateway for exploring some of the island's mountainous interior, including nature areas like Sun Moon Lake which is popular for boating and hiking.
Not only that, but you can find museums, temples and even the ornate brick Taichung Station, which is a legacy of the Japanese colonial period here in this city.
There is literally so many things you can see and do here in this city.
Now if you are wondering what there is to do in this amazing city, you are in luck.
In this post, I will talk about the 15 best things to do in Taichung, Taiwan.
So if you are ready, lets get started!
Things To Do In Taichung, Taiwan
In no particular order, here are the best things to do in Taichung, Taiwan.
Rainbow Village
Rainbow Village is truly a unique place that everybody needs to see. It is located in a tiny settlement here in the Nantun District of Taichung and is famous for its many vibrantly painted houses and streets. It is one of the most colorful spots in all of Taiwan as well as the world.
The story for why the place looks all colorful and stuff is because an old grandpa didn't want to leave and have the entire area destroyed by development companies. So instead, he decided to stay here and started painting everything with colorful characters and items. Thus, Rainbow Village came to life.
It is truly a special place and is one of my personal favorite to visit.
The Original Milk Tea – Chun Shui Tang
Did you know that Bubble Tea/Boba was first created here in Taiwan? Not just Taiwan, but here in this city.
Chun Shui Tang has the claim of being the shop that invented the famous drink. The tea they serve here is the original version, containing just tea, milk, sugar and tapioca served in a signature blue cup and it really is amazing to drink.
921 Earthquake Museum
On September of 1999, a devastating earthquake hit the area of Taiwan. Known as the Jiji Earthquake, it caused catastrophic damage all over area. Over 2,500 people lost their lives and over 100,000 Taiwanese people were left homeless.
The 921 Earthquake museum is a symbol dedicated to that tragic event. The museum is located on the site of the former Guangfu High School which crosses the fault of where the earthquake occurred. It is here where you'll find many buildings and subsided grounds still standing as they did after the earthquake hit.
Definitely a sight to see.
Cultural Heritage Park
Originally built as a traditional brewery, this 5.6 acre area has been transformed into a Cultural Heritage Park. It is here where the creative mind can grow and explore with sculptors, writers, painters and performers showcasing their talents.
Not only that, but the park also contains some restaurants, art studios, craft stores, bazaars, and many other things that visitors might find intriguing.
So if you want to get away from the city life and see some unique and creative talents, this is the place to be.
Feng Chia Night Market
Feng Chia Night Market is one of the biggest and best night markets in all of Taiwan. Once you get here, you'll notice tens of hundreds of stalls all lined up ready for people to visit. You'll be able to find gifts and souvenirs to buy, food to eat, as well as entertainment on the streets to see. There is simply so much for you to see and do here that you can spend hours and hours on end without getting tired.
Definitely a fantastic place to visit for some night time fun.
Taichung Confucian Temple
Taichung Confucius Temple is a modern temple. It was built between the years 1972 and 1976, during the last years of Chiang Kai-shek rule, when Taichung was considered the capital of the Taiwan province, yet did not have a Confucius Temple.
The temple itself was built following the temple-style of the Song Dynasty, characterized by a classical simplicity and clean lines. The beams and the roofs are decorated with stylized grass and flowers, painted in vivid colors.
Overall, it is a great place to visit if you want to get away from the city life.
Sun Moon Lake
Sun Moon Lake is the largest lake located in the island of Taiwan. It is divided into 2 sections from the Lalu island which is located in the middle. This gives the 2 sections an appearance of the Sun on one side and the Moon on the other side.
There are three ferry piers on the lake to serve ferries on the lake; they are Shuishe Pier, Xuanguang Pier and Ita Thao Pier. They are able to take you to different areas of the lake where each area has something fun for you to see and do. There is also a local bus service that goes around the lake with stops at major points along the perimeter of the lake.
It is a beautiful spot where people can take pictures, roam around, and essentially just relax and unwind.
Totoro Bus Stop
This will really make you remember your childhood. If you were ever a fan of the Miyazaki movie "My Neighbour Totoro", than a visit to the Totoro Bus Stop is a must do thing!
It features the famous scene where Satsuki waits for her father at the bus stop and Totoro gave her shelter from the rain.
I'm Talato
As you know, Taiwan has its fair share of themed cafes. From the poop restaurant to the hello kitty cafe, there are so many different options. Taichung is no different.
It is here where you can find the "I'm Talato" cafe which features all things ice cream. It is a famous ice cream store for both its ice-cream and the ice-cream swimming pool filled with giant ice cream floats. The pool makes I'm Talato extremely popular with Instagram lovers and the shop is usually very busy with people.
Miyahara Ice Cream
Miyahara is a special place with deep roots in history. Originally the home of the Taichung Health Bureau, it has since been acquired and turned it into what it is today.
The interior decor was redesigned like Hogwarts in the movie Harry Potter. The water well in the middle of the building is redecorated into a modern-looking fundraising box made of glass.
Visitors to Miyahara are not only recommended to appreciate the details of the historic architecture but also try Dawn Cake's signature ice cream, bubble tea and pastries wrapped in nostalgic packings!
Painted Animation Lane
Painted Animation Lane is a place filled with all kinds of animation art. It is located on a quiet set of small side streets in down downtown Taichung. With everything from manga comic characters to Super Mario, Dragon Ball, One Piece etc… it is a fun experience exploring the streets to discover the many hidden pieces of street art strewn throughout the area.
Zhongshe Flower Market
Zhongshe Flower market is a place filled with flowers. It is a flower market with manicured gardens and Instagram worthy props. Making it the perfect place for you to come and take pictures.
Although it is named a market, there's more to the Zhongshe Flower Market than buying and selling flowers. It's a place where people can come and unwind and have some fun.
When you finish looking at all the flowers and taking pictures, you can even head to the on site restaurant and have some Taiwanese bbq. YUM!
Lavender Cottage
Lavender Cottage was established by two young ladies who quit their jobs in Taipei and Kaohsiung to pursue a purple lavender dream. So, they bought a remote hill in nowhere, where there was no phone connectivity or tourists and started to grow lavenders.
It was difficult, but after years of hard work and determination, they fulfilled their dream. They have successfully built a romantic hideaway where visitors could enjoy their own private moments without much disturbance. A Lavender Cottage, a dreamy garden, completed with its own restaurants, shops, merchandises and accommodation.
Calligraphy Greenway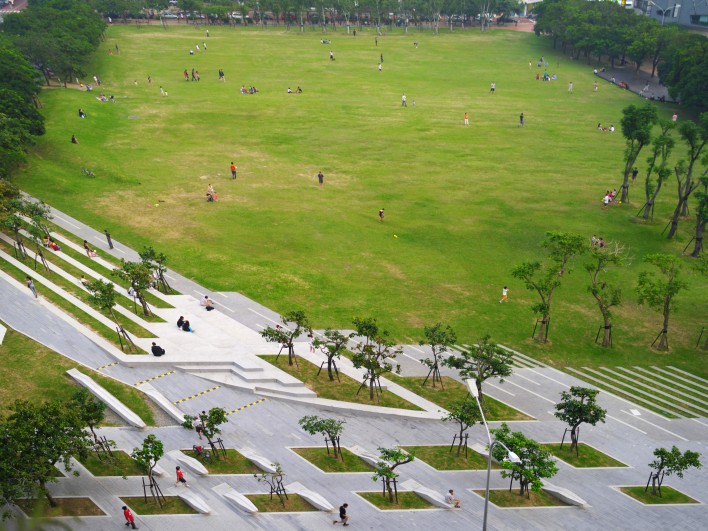 The Calligraphy Greenway is a special tree-lined boulevard which stretches between the National Museum of Natural Science and National Taiwan Museum of Fine Arts.
Calligraphy Greenway is the arts and cultural center of the city. It's a collective hub of creativity where you can enjoy exhibits and performances, visit museums, and explore artsy neighborhoods with many interesting shops and boutiques.
The Gaomei Wetlands
If you want to get away from the city life, the Gaomei Wetlands is a perfect place to be. The tidal flat is famous for its beautiful sunsets and is home to beautiful wildlife including thousands of crabs and birds. You can roam around and catch the sea breeze on the specially built boardwalk as well as enjoy the sunset and the marine life.
It's also a great spot for bird watching as every year around fall and winter, large flocks of migrating birds would come here for either short or long stay over the winter.
_____
As you can see, the city of Taichung is a really nice place to visit
With so many things you can see and do here, it's like a paradise for many people.
So hopefully this list will inspire people to travel to other cities in Taiwan besides just the capital.
Also, if you are planning to visit Taiwan anytime soon, you might also be interested in some of my other Taiwan posts.
Or you can check out my complete list of things to do in Taiwan by clicking here.
Let me know how your trip goes!