What are some of the best things to do in Sapporo, Japan?
After all, If you ever get a chance to visit Japan, one place I highly suggest you visit is the island of Hokkaido.
Hokkaido is a pretty big island with many different cities located inside it.
One such city that you should definitely check out if you are going to visit this country is Sapporo, which is the capital city of Hokkaido. This city is known for being one of the most exciting cities in the entire region of Japan.
It is here where you can get a feel of modern technologies mixed in with a more traditional feel of the Japanese culture.
There are an abundant amount of things to see and do in this city. For instance, this city is known for it's many winter theme attractions. Not only that but because it is an island, you are bound to find many delicious and tasty seafood that Hokkaido is known for such as tasty hairy crabs and Sapporo Beer.
So if you are interested in finding out what things you are able to do as well as places to see in Sapporo, then look no further.
In this post, we'll be detailing the 20 best things for you to do in this city.
20 Best Things To Do In Sapporo, Japan
In no particular order, here are the best things to do in Sapporo, Japan.
Attend Sapporo Snow Festival
The Sapporo Snow Festival is the premier event of the city and is famous for its amazing ice sculpture competition.
You are able catch this event every year which begins around February.
Ice sculptors from all over the world come here to visit and you are able to find all sorts of attractions that your kids and yourself will like. Things such as giant ice castles, igloos, statues, etc, all are available for you to see.
Now I do recommend you to come at night as it is probably the best time to come to this event. The reason being is that the ice sculptures are illuminated with many different colored lights, which will make the sculptures pop out and look amazing.
Watch A Game At Sapporo Dome
Sapporo Dome is the premier place if you want to watch some live sports in this city. It is home to a range of baseball teams from all around.
Fun fact, it was also the host of the FIFA World Cup in 2002.
So whether you want to watch a game or simply relax, this place is a great choice to visit.
Roam Around Asahiyama Park
Asahiyama Park is probably one of the best parks you can find in this city. It is a clean and quiet park yet also vibrant and full of colors from the beautiful flower gardens around.
It has become a popular spot among many couples who come here to take pictures together as well as a place where you can see some amazing cherry blossoms blooming around.
Overall a nice place where you can get some peace and quiet.
Hokkaido Museum of Modern Art
If you have a taste for art, then you will surely love the Hokkaido Museum of Modern Art.
It is a place dedicated to show the modern works of artists mainly from Japan. Although you will also find some works from other parts of the world here as well. They do feature different exhibitions from time to time, so be sure to check what special exhibition is happening when you are there.
Visit The Ishiya Chocolate Factory
If you ever wanted to visit a real life chocolate factory, then here is your chance.
No it is not like Willy Wonka's version, but it is still great none the less.
You are able to take a tour of the facility and see exactly how they make their chocolates here. Not only that, but the place also has a restaurant where you can eat and relax. They also have a toy museum where you can see some toys as well as a robot show located in the area.
Definitely a place where your kids and yourself will have a good time.
Buy Chocolate
One of the best things that Japanese people love to do is to buy chocolate to give to other people. Chocolates make a perfect souvenir and a gift for any type of event.
The chocolate that is famous in Sapporo is known as the Shiroi Koibito which means "White Lovers" and is a type of white chocolate.
Pick some up and bring back to your home country or just have some as a snack. It'll be fantastic.
Eat All The Tasty Foods
Trying the local foods of a different country is a no brainer.
One such food that is famous in Sapporo is the hairy crab and is a delicacy here. Although it might not be the cheapest thing here, the taste is unimaginably good. And there are a ton of restaurants all around that will feature this item on it's menu.
Aside from the yummy crab, you can also try the other foods that are popular in this city like Sapporo soup curry or even ramen.
Whatever it is you decide to try, I guarantee it will taste amazing.
View The Clock Tower
The Clock Tower is probably one of the most famous buildings in all of Sapporo. It is one of the last remaining western style building in the city and dates back all the way to 1878.
It is a pretty popular spot so be sure to come early if you want to view this tower, as it can definitely get pretty crowded.
Roam Around Nijo Ichiba
Just like how every other city in Japan has their own seafood market, Sapporo is no different.
Niji Ichiba is often times compared to the great Tsukiji Market in Tokyo as it has just as much good things to sell here.
You'll be able to find a huge range of all kinds of seafood that are fresh and some even ready to eat every single day. Plus they sell the items at a cheaper price than most stores in the country. The markets open early in the morning, so its best to come as early as possible as all the good stuff might be sold out if you come too late.
Roam Around Odori Park
Odori Park is one of the most famous parks in the city of Sapporo. You'll be able to see many trees, flowers, fountains, etc, all located around this park. It spans around 15 blocks large and makes for a perfect place to come roam around or relax during the day.
View Sapporo TV Tower
One look at the tower and you'll think, "Hey that looks familiar!". And in fact, it really does. This tower was modeled after the Eiffel Tower In Paris. It is one of the most iconic towers in the entire country of Japan.
You'll be able to travel all the way up to the observation deck that is around 90 meters high and you'll be able to see fantastic views of the entire city.
Tour the Sapporo Beer Museum
Sapporo Beer Museum is one of the main attractions in Sapporo as it houses and showcases some of the city's finest beverages.
This museum is owned by the actual Sapporo Brewing Company, and allows for you to take guided tours of the entire facility as well as learn all the ins and outs of how the company got started and how they make their beer.
Go Up Moiwayama
Moiwayama is a mountain located just outside Sapporo that will be able to give you fantastic views of the entire city.
You can either hike your way up here or take a cable car straight to the top to enjoy the views. Once you are at the top, you'll be surprised and astonished at just how beautiful the views are.
Fun fact, if you come during the night time, you'll see lights sparkle all over the city of Sapporo which makes the sight an even better one to see.
Roam Around Botanical Garden At Hokkaido University
The Botanical Gardens located at Hokkaido University are one of the most beautiful gardens you'll ever see.
There are many attractions all around ranging from rock gardens to lilac gardens as well as other smaller gardens too. Many of these gardens are even organized into different themes to make it more appealing. There is even a museum here where you can find out and learn about the history of the city.
Definitely a place to visit.
Learn About Hokkaido Pioneer Village
If you want to learn the history of industrialization in this area, then you'll want to head to Hokkaido Pioneer Village. It is here where you'll be able to see many types of buildings that date back to the beginning of the 20th century and you'll get an inside look at how it has transformed this city.
Check Out Hokkaido Museum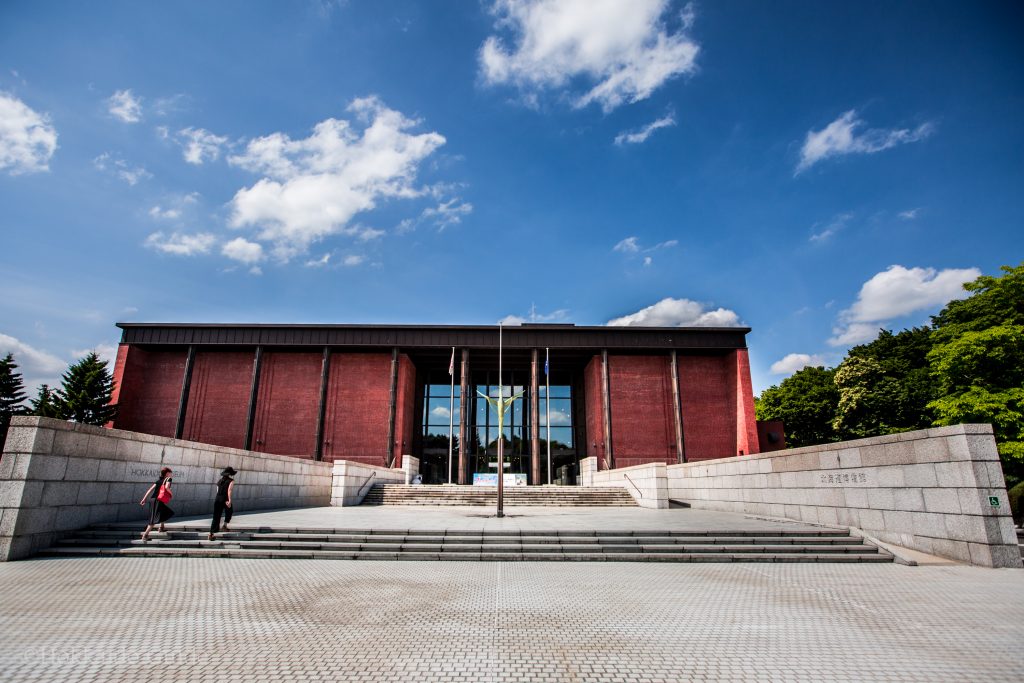 A great place to learn about the history of the country as well as the city is the Hokkaido Museum.
In the museum, you'll find a variety of different galleries that showcases many different things. It'll feel as it you went back in time as you'll see things ranging from dinosaurs to mammoths to even relics from Japan.
They even tell you about the industrial period that happened in this city and how it has transformed the area.
Overall a great place to learn some new things.
Roam Around Moerenuma Park
Moerenuma Park is another park located in the city of Sapporo.
It is known for it's beautiful lush grass and nice attractions all around. One such attraction is this large glass pyramid that is over five stories high. Aside from this, there is also a mountain here where you can climb and look at fantastic views of the entire city.
Overall a decent park to visit if you have the time.
Check Out Jozankei
If you want to get away from the city life and visit a more rural area, then I highly suggest you take a visit to Jozankei.
It is here where you can relax and unwind as you do whatever it is you want to do. This area is also known for it's many hot springs and onsens which is the perfect spot for anybody to come and relax.
It is also surrounded by many colorful trees and plants and offers you a great look at what the country side is like in this area of the country.
Check Out Kaitaku-mura
Kaitaku-mura is the place you'll want to visit if you want to see some amazingly built historical buildings and models.
Coming to this place will make you feel as if you are in the past and are able to get a first hand look at just how Sapporo use to be. Most of these buildings date back to the 19th century and were build in many different styles.
The best thing about this area is that most of these buildings are able to be toured around as you can look inside and outside and see how the architecture was back in the day.
Have Fun Skiing
Because Sapporo is known for it's winter attractions, you already know that skiing is going to be on this list.
One awesome place to start skiing is at Mount Teine which is the most famous mountain to ski on in the region. Aside from skiing, you can also do any other snow activities in this area like snowboarding, sledding, and much more.
_____
Sapporo is a place that I think many people will enjoy.
It's not the same as the other cities in Japan, but still provides it's own sense of style and culture.
If you are ever going to visit Japan, hopefully this list was able to help you in some way when you decide on places to visit.
Also, if you are planning to visit Japan anytime soon, you might be interested in some of my other Japan posts.
Or you can check out my complete list of things to do in Japan by clicking here.
Let me know how your trip goes!