What are some of the best things to do in Nantou, Taiwan?
After all, when most people travel to Taiwan, most of them them to only visit Taipei which is the capital city of the country.
However besides Taipei, did you know that there are other cities just as awesome as them?
One such city is Nantou.
It is an area highly renowned for its tea plantations which spans out as far as you can see.
However besides the tea plantations located in these areas, the biggest attraction and the pride of the city is the beautiful Sun and Moon Lake. It is the biggest lake in all of Taiwan located in the Yuchi Township.
The reason it is called Sun and Moon lake is because the lake is in fact divided into 2 sections by the small Lalu Island. One half of the lake resembles a sun while the other looks like a crescent moon.
Not only that, but the area also offers many historical and cultural sites for you to see.
It'll definitely give you an inside look at the Taiwanese way of life and heritage.
So if you are ever wondering what you should do in the great city of Nantou, then you are in luck.
In this post, I will talk about the 16 best things to do in Nantou, Taiwan.
So if you are ready, lets get started!
Things To Do In Nantou, Taiwan
In no particular order, here are the best things to do in Nantou, Taiwan.
Sun Moon Lake
Sun Moon Lake is the largest lake located in the island of Taiwan. It is divided into 2 sections from the Lalu island which is located in the middle. This gives the 2 sections an appearance of the Sun on one side and the Moon on the other side.
There are three ferry piers on the lake to serve ferries on the lake; they are Shuishe Pier, Xuanguang Pier and Ita Thao Pier. They are able to take you to different areas of the lake where each area has something fun for you to see and do. There is also a local bus service that goes around the lake with stops at major points along the perimeter of the lake.
It is a beautiful spot where people can take pictures, roam around, and essentially just relax and unwind.
Lalu Island
Lalu Island is a beautiful island that splits up the Sun Moon Lake. Previously known as Guanghua Island, it is a place where people from all over come to visit in order to see the "matchmaking shrine". They come to this shrine and hope that their prayers are answered so that that can eventually find their soul mate and have a perfect marriage.
Bamboo Rock Garden
Right near Sun Moon Lake is a place called the Bamboo Rock Garden. This garden features many trees that offer shade from the sun for you to rest. Plus, it has also become a popular place for photographers to come and capture the scenic beauty of the beautiful bamboo plants.
Overall a great place to roam around and look at what nature provides.
Ci'en Pagoda
The Ci En Pagoda is a pagoda that was created by the former President Chiang Kai Shek as a tribute to his late mother. Ci En Pagoda stands at about 1,045 meters high above sea level or 9 stories high with the beautiful Shabalan Mountain as its backdrop.
Anybody who visits this pagoda can actually climb up the entire 9 stories of this tower and get a chance to see some beautiful views of the surrounding area.
Wenwu Temple
Wen Wu temple is a temple located on the perimeter of Sun Moon Lake. It is basically the result of 2 post-Japanese era temples being combined into one.
The temple consists of three halls. The first hall, located on the second floor of the front hall, is a shrine devoted to the First Ancestor Kaiji and the God of Literature. The central hall is devoted to Guan Gong, the God of War, and the warrior-God Yue Fei. The rear hall is dedicated to Confucius.
Not only that, but the temple has a few Chinese guardian lions which are located in front of the temple, one male and one female.
Batongguan Historic Trail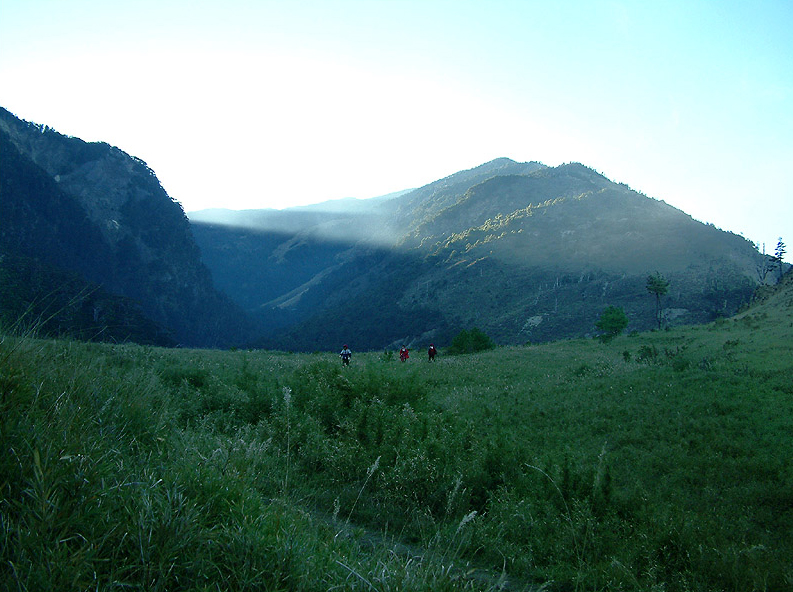 The Batongguan Historic Trail is an area that was established by soliders in 1875 during the Qing Dynasty. Along the trails, you'll find many stone inscriptions that basically act as milestones on the distance as well as the history of the area.
Aside from the trails, you can also come here to roam around and take in the beautiful natural scenic views of the area.
Carp Lake
Carp Lake is a special place located just on the outskirts of the town. It is a fantastic spot for many outdoor activities. Such things like camping, hiking, boating, picnicking and much more are available to do here. Plus, the area is fairly developed so you can also choose to eat at some nice restaurants or stay in some hotels as well that overlook the area.
Formosan Aboriginal Culture Village
If you want to learn about the early cultures and people of Taiwan, then there is no place better to visit than the Formosan Aboriginal Cultural Village. It is here where you can see a few special shows performed by the Yamei, Puwan and Yen tribes. You'll also be served dinner where you get a chance to taste some authentic Taiwanese cuisines prepared specially by the chefs of the tribes.
Nantou Global Tea Expo
Because of the rich history of tea growing here in Nantou, it has become home of the first Global Tea Expo. However the expo has moved on, the city still continues to hold an annual festival for tea.
Generally held around October, any tea fans from all over shouldn't miss the opportunity to try out all the vast array of fragrant teas produced in this region.
Bamboo Art Museum
The Bamboo Art Museum is a place where you can see all things bamboo. From the wealth of information for this particular natural resource to the creative uses that people have found for it.
Visitors who come here can learn about the history of the bamboo trade as well as the industry of it while appreciating both modern and traditional bamboo art. You'll also learn information about how important bamboo is for food, clothing, arts and crafts and even accommodations in Nantou.
Ita Thao
Ita Thao is one of the 3 places you can visit by ferry at Sun Moon Lake. It is basically a village that is populated by the Thao people who are an aboriginal Taiwanese community.
Travelers who come here can shop around at the marketplace which offers many types of gifts and souvenirs as well as local arts and crafts. There are also many cultural performances here that you can enjoy.
Meihe Garden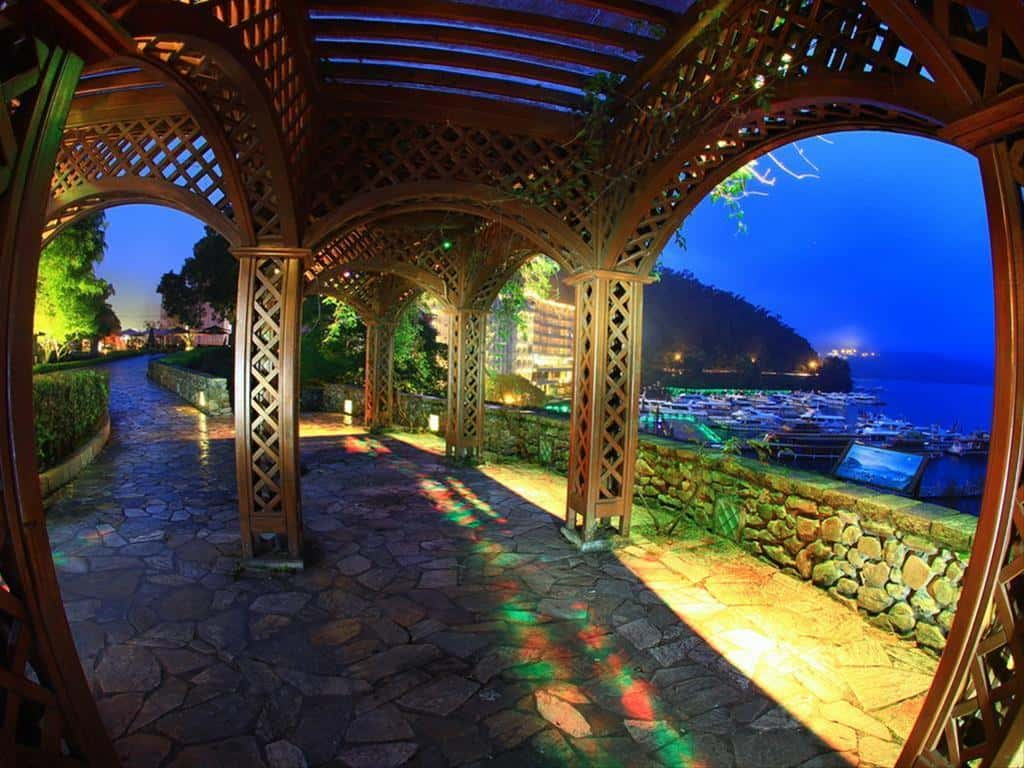 Meihe Garden is one of the most scenic spots in all of Nantou. It is located by the shore of Sun Moon Lake whose name was derived from the phrase "plum and water lily". It use to be formerly the site of a military police station, but has since been abandoned and turned into a garden you see here today.
Mu Sheng Insect Museum
The Mu Sheng Insect Museum is a place where you can learn about all things insects. The museum collects more than 100,000 specimens of rare butterflies and insects of different countries, with 160,000 species displayed during ordinary days. It is a private insect museum with the richest collection in the world. Plus, the museum even has a children's play area and petting zoo which is populated with bunnies and birds.
Nearby the museum are cafes that are able to serve you cool refreshments and delicious treats.
Hanbi Hiking Trail
If you want to tour around the entire Sun Moon Lake at your own pace, then taking the Hanbi Hiking Trail is the way to go. The trail is about 1.5 km long and lets you hike along the trail while giving you sights of Lalu Island as well as other beautiful views with a gorgeous mountainous backdrop.
Puli Winery
Did you know that Nantou is home to some of the most premium Taiwanese wines? And if you want to try some of these wines, there is no better place than the Puli Winery where the exquisite Shaohsing wine is made. These wines are unlike any other rice wine as it comes in a very vibrant yellow shade of color. Many travelers from all over choose to come to to this winery in order to sample as well as bring home some of the wines as souvenirs or gifts.
The Old England Manor
The Old England Manor is an intriguing place since it was built because a guy was so enamored with the English way of life that he spent a total of $800 million NT to have something English made in Taiwan.
It is here where you'll find all sorts of sculptures, gardens, furnishing and every single element reflect the old English charms that many experience during their stay in Nantou.
Plus, you get to try out some tea while here as well!
_____
As you can see, the city of Nantou is a pretty beautiful place to visit
With so many things to do in Nantou, it's like a paradise for many people.
So hopefully this list will inspire people to travel to other cities in Taiwan besides just the capital.
Also, if you are planning to visit Taiwan anytime soon, you might also be interested in some of my other Taiwan posts.
Or you can check out my complete list of things to do in Taiwan by clicking here.
Let me know how your trip goes!