What are some of the best things to do in Nagasaki, Japan?
After all, if you know your history, then you'll know that the city of Nagasaki was one of the two cities in Japan that were hit with atomic bombs during World War II.
It is this reason that many of the attractions you find in this city are closely linked with that devastating period of history. Things like monuments being built as well as museums that tell the history of what happened, it is a great place to learn what exactly happened during that time of war.
However the city isn't just mainly about the atomic bombs.
It is actually much more than that. You'll be able to see many interesting and unique things here that are unlike anywhere else in Japan.
So if you are interested in finding out what things you are able to see and do here in Nagasaki, you are in the right place.
Here are the 20 best things you are able to do here in the city of Nagasaki.
20 Things To Do In Nagasaki, Japan
In no particular order, here are the best things to do in Nagasaki, Japan.
Check Out The Nagasaki Atomic Bomb Museum
As you know, Nagasaki is known throughout the world as being one of the two place sin Japan that was hit with an atomic bomb.
Because of this fact, the Nagasaki Atomic Bomb Museum was built. This museum is able to take you back through time and detail everything that went on with that time period and how it has changed the world.
You'll be able to see photos of the destruction, items from that period that were found after the bomb, as well as seeing many kinds of unique stories left behind by the survivors.
View The Oka Masaharu Memorial Nagasaki Peace Museum
Nagasaki is home to many different kinds of museums dedicated to the devastating event that happened in World War II. One of these places is the Oka Masaharu Memorial Nagasaki Peace Museum.
This place is pretty unique as it features some galleries and exhibitions that explain how the Japanese war crimes took place during the events in World War II which is something rare in Japan.
View The Nagasaki Peace Memorial Hall
The Nagasaki Peace Memorial Hall is a nice place to visit as it was built to be a place where people can go to commemorate those who lost their lives as a result of the event that happened in WWII.
Inside you'll find a number of inscriptions that has the names of all the victims of the bomb that are inscribed into the wall.
Aside from that you'll also find many things that depicts the history and timeline of WWII and how the events of the atomic bomb has changed the world.
Roam Around Peace Park
The Peace Park is a special place as it is a place dedicated to all the victims that lost their lives during the atomic bomb event.
Not only that, this place is also the exact spot where the bomb fell and hit the city.
The park itself is a pretty beautiful park as there is so many flowers and plants surrounding the area which makes it a perfect spot to relax and roam around.
Taste The Delicious Foods
If you want to try some delicious Japanese foods, then you will definitely love the city of Nagasaki. It has become known as a city with some of the best foods you can find in Japan.
From savory things to sweet things, you can find it all here in this city.
Some things you can try are the Kakuni Manju which is basically a bun sandwich with things stuffed inside, or maybe a Champon which is a noodle dish, or any other foods you can find here.
Try Castella
Castella is a steamed sponge cake that is a specialty of Nagasaki that was inspired by the Portuguese many years ago.
It is usually flavored with different ingredients like nuts, matcha, honey, or anything else that makes it a sweet and delicious snack to eat.
Suwa Shrine
Suwa Shrine is a shrine that dates back to 162 and rests on a hill that overlooks the city.
This shrine is known for it's unique sculptures of animals like the water sprites or guard dogs. One of the more interesting sculptures is of another dog statue that is used by sex workers who would pray and hope that a storm would hit the city so that the sailors and people would not leave.
Getting to the shrine itself is actually pretty fun as you will have to climb up a series of stairs which will give you some amazing views of the city.
View Huis Ten Bosch
If you didn't know, Nagasaki has some history with the Dutch.
It is because of this history that this place has decided to built a "theme park" like place of the Netherlands. In here you'll find many replicas of different type of buildings and houses that were constructed back during the Dutch Golden Age.
This place is definitely unique as it's like you are visiting the Netherlands when you are actually in Japan.
View The Oura Cathedral
If you want to see some different type of architecture, then you might want to head to Oura Cathedral. It is a Catholic church that dates back to 1886 and was built by French missionaries.
It is also pretty popular as being the oldest church of its kind in Japan. Not only that but is has become a UNESCO World Heritage Site which means that this place is definitely something spectacular.
Check Out Urakami Cathedral
Urakami Cathedral is a Roman Catholic Cathedral that has since been rebuilt after it was destroyed during the events of WWII. It also was formerly the biggest church in all of Asia.
This place is pretty popular because it is home to a statue of the Virgin Mary which was partially damaged by the bomb. Legends say that the statue will shed tears because of the devastation that happened here in this city.
Visit Nagasaki Penguin Aquarium
Nagasaki Penguin Aquarium is just as it sounds. It is an aquarium that is filled with penguins.
You are able to view them through many underwater tanks as they swim around freely. Aside from that they also have special feeding times where you are able to feed fish to the penguins.
Although the name of the place is a Penguin Aquarium, they do have other creatures in the building.
Overall a neat place to check out some interesting marine life.
Check Out Dejima
Dejima is the name of an island in Nagasaki Harbour that was a former Dutch trading post preserved as a historic district of reconstructed 17th-century warehouses and merchant homes.
When your here, you'll find a bunch of different model buildings that date back to that time period as well as replicas of how they should have looked back then.
This entire place have basically become an open air museum that is known as the Dejima Museum.
View The Nagasaki Prefectural Art Museum
At the Nagasaki Prefectural Art Museum you will find a huge range of exhibitions that showcases the different art works and styles from the region.
They even have galleries that rotate in every once in a while that displays art work and pieces from different parts of the world.
Aside from the art, this place also has a roof garden where you can go up and get some amazing views of the city.
Roam Around Nagasaki China Town
Nagasaki Chinatown is known to be the oldest Chinatown in all of Japan and dates back all the way to the 15th century.
This place brings together the awesomeness of Chinese flavors mixed in with the Japanese culture. You will find all kinds of amazing things to eat over here.
It also is home to the Nagasaki Lantern Festival that happens every year during Chinese New Year. It is the largest Chinese New Year festival in all of Japan where many people come from all over the country to see.
Nagasaki Lantern Festival
This kind of ties in with the China Town post above as it is in the same area, but it is something everybody should check out if they get a chance to.
This festival is held every year on Chinese New Year and is the biggest Chinese New Year festival in all of Japan.
You'll be able to see so many different events going on from fireworks popping to lanterns floating all around. You can also walk along the riverside where you will notice thousands of lanterns in all kinds of unique shapes on display.
Check Out Koshibyo Confucius Shrine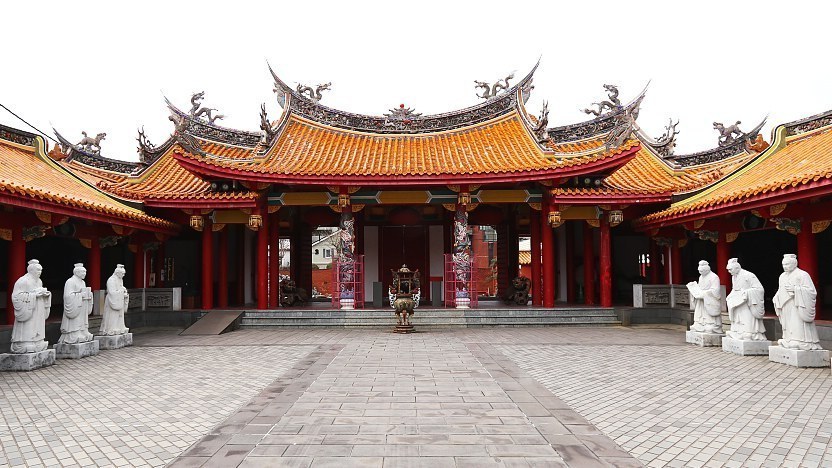 Koshibyo Confucius Shrine is one of a handful of shrines dedicated to the Chinese philosopher Confucius in Japan and dates back to 1893.
When you get to this shrine, you'll notice that there is a small garden with a bridge as well as a pond. And inside the courtyard stands 72 life size stone statues that depict Confucius' disciples.
If you are interested in learning more about Confucius as well as this period of history, then definitely come check this place out.
Visit The Twenty-six Martyrs of Japan
The Twenty-six Martyrs of Japan is a monument as well as a museum that stands in honor of the 26 missionaries and Christians who were executed by crucifixion in the 1600s here and then made saints in the 19th century.
The museum itself is not that big but inside you will find a bunch of sections dedicated to Christian antiques and memorabilia.
Roam Around Glover Garden
Glover Garden is a park/open-air museum that is home to a series of homes and mansions which would have been used by European diplomats and other foreign workers back in the past.
The main attraction of this place is the Former Glover House, which is the oldest Western-style wooden building in all of Japan.
This is a great place to see how people would have lived back in the 19th century.
Go Up Mount Inasa
Tired of the city? Why not go up Mount Inasa to see some fabulous views of the entire city.
You can either choose to walk up or take a cab/bus or take a ropeway to the top of the mountain.
Once you are at the top you are able to relax and just take in the breathtaking views of the city. The best time to come here is during the night as the view during the night time is said to be one of the best night time views in all of Japan.
Visit Hashima Island
Hashima Island or better known as "Battleship Island" is an island that is filled with old things.
Most of the place is in ruins as nobody has lived here since the 1970's and is a perfect place for you to see some history of an old town that once lived here.
You are able to go on a tour here and look around the island as well as be filled with information about the events that happened on this island.
______
This place is a place rich in history and culture.
Even though a lot of this place is dedicated to the the events that happened during WWII, there still are quite a bit of things for you to see and do.
So hopefully this list was able to help you in some way in deciding just which cities you'll want to visit.
Also, if you are planning to visit Japan anytime soon, you might be interested in some of my other Japan posts.
Or you can check out my complete list of things to do in Japan by clicking here.
Let me know how your trip goes!