What are some of the best things to do in Kyoto, Japan?
After all, Japan is one of the most popular countries in the world to visit. It is a country where you can find old traditions mixed with modern technology.
And depending on which city you choose to go to, you'll find vast differences between each one of them.
For instance, Tokyo might be the city surrounded by technology, but Kyoto is the city known for its old traditions and temples all around.
Which is why if you decide to visit Kyoto, you will be stunned by all the amazing traditions this city has kept. From the old shinto shrines to temples to bamboo forests to even geishas. You will feel like you traveled back into the past and get a first hand look at just what Japan was like in the older days.
There is simply so many things to see and do.
So if you're wondering just what things you are able to do, then you are in the right place.
In this post we will highlight the 14 best things any traveler should do if they ever visit Kyoto.
Ready? Lets Start Exploring!
14 Things To Do In Kyoto, Japan
Here are the 14 best things to do in Kyoto, Japan.
Walk Through Fushimi Inari-taisha Shrine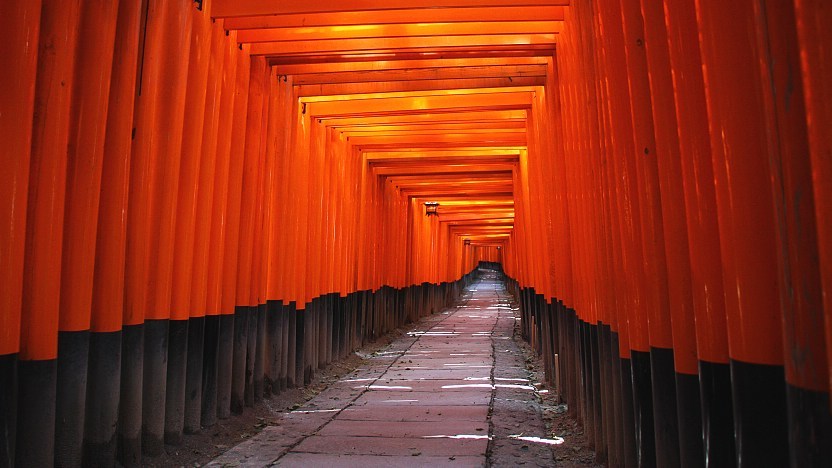 You have probably seen pictures of these beautiful red orange pillar gates at some point in your life. They are the iconic Inari-Taisha Shrine Pillars located here in Kyoto. These pillar gates honors the Shinto God Inari, who is known as the god of rice. There are literally thousands of these traditional torii gates all around the path. You can easily spend an entire day walking through the path and see the beautiful gates surrounding you.
Not only that, but half way up the mountain path, you will be able to see amazing views of Kyoto at the Yotsutsuji Intersection.
Go Up Kyoto Tower
The Kyoto Tower is the tallest building in all of Kyoto. You are able to go up to the top to see an amazing panoramic view of the city that can reach all the way to Osaka. While you are at the top, they have telescopes and LED touch screens to showcase important landmarks so that you won't be confused at what you are seeing.
If you are wanting to see a beautiful scenic view, I highly suggest you visit this place during sunset for the best pictures.
Grab A Bite To Eat At Pontocho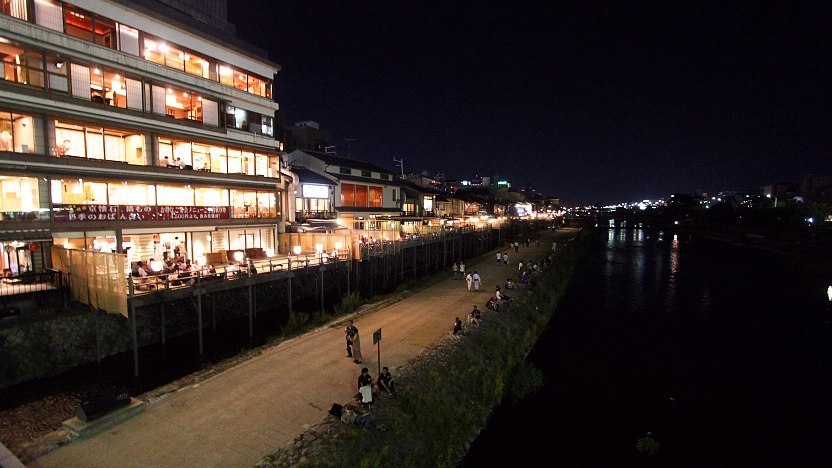 Pontocho is one of Kyoto's most popular dining areas. It is basically a narry alley that is packed full or restaurants and shops on both sides. Here you can find an amazing assortment of local traditional style Japanese foods as well as foreign foods as well.
If it is your first time here, I highly suggest just browsing around in and out of shops and find which ever one is to your liking. They are all pretty good so you will be happy no matter which shop you decide to visit.
Visit Kinkakuji Temple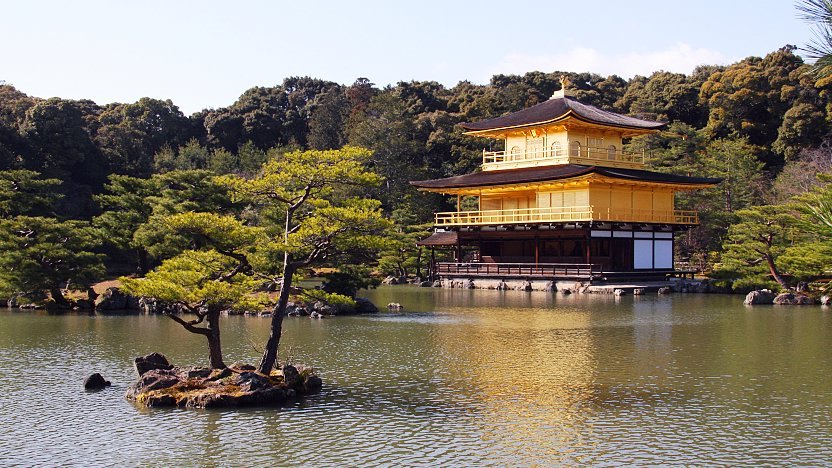 Kinkakuji Temple is something special. It is placed around a lake that is surrounded by trees. The temple was originally built as a retirement home for a famous shogun, but eventually the building became sanctioned as a temple shortly after his death.
When I went here, I was not able to go in the temple, so i'm not sure if they allow it or not. But it is still a pretty place to visit.
Visit Kiyomizu-dera Temple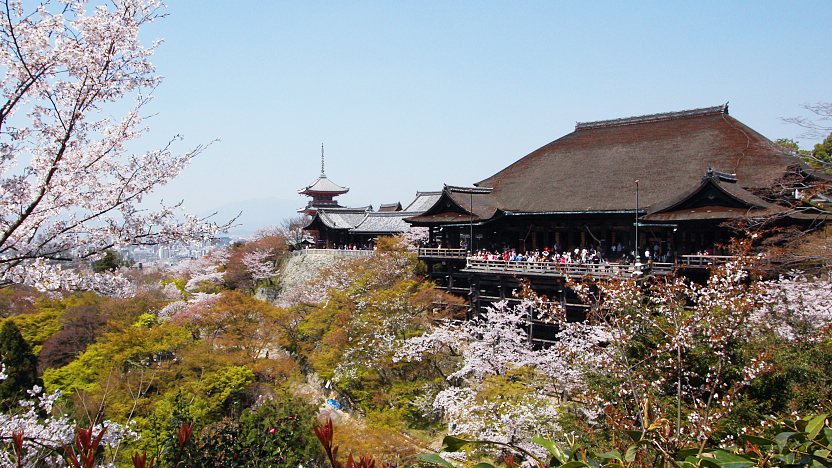 The Kiyomizu-dera Temple is a UNESCO World Heritage site that is on top of a beautiful hill surrounded by amazing cherry blossom trees. It is famous for having an array of magical things about it.
For instance, if you are able to walk between two stones with your eyes closed in front of the Jinshu shrine, then you will be able to find true love. Weather this is true or not, doesn't really matter. What matters is the experience.
The shrine also is next to the Otowa Waterfall. The waterfall is divided into three streams which symbolizes success, long life, and love. You can drink from the stream in hopes of having some good luck come your way.
Definitely something to visit as it is not only beautiful but also symbolic.
Visit The Eikando Zenrinji Temple
If you want to find a place where you can get some peace and quiet while also enjoying traditional Japanese architecture, then look no further than Eikando Zenrinji. This temple has a lot of beautiful scenery all around it featuring quite a few large koi ponds as well as tons of maple trees. Plus, it doesn't get crowded as much as other temples, which makes it a perfect place to relax and stroll around.
Visit Monkeys At Monkey Park Iwatayama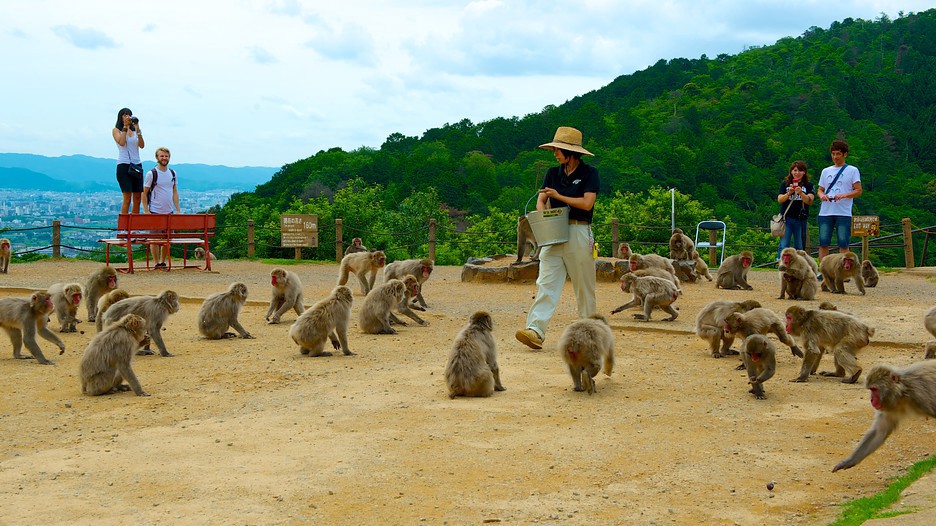 Heading to Monkey Park Iwatayama, you will see an abundance of monkeys all around. They are roaming free all throughout the area. Some monkeys are even daring enough to come close to you and try to steal your food if you have any.
It is pretty fun over here as you can get a chance to feed the monkeys. There is a shop located here where you can buy packaged nuts and apples to feed to them. If you do this though, I highly recommend keeping the food closed tightly and close to you. The monkeys here are no strangers to just running up to you and trying to steal the food.
Kyoto International Manga Museum
If you love anime or manga's, then you will be pleased to know that there is a museum dedicated to all things Manga. It has been a growing trend that is becoming increasingly more popular as each year passes.
Here at the museum you are able to browse through all kinds of popular manga, watch people draw manga, learn about the influence it has during the post WWII era, as well as even getting your own portrait drawn. However most of the mangas here are in Japanese since this is in Japan, but you are able to find a few English copies around in the library.
Definitely a must visit place if you love Japanese cartoons.
Partake In A Tea Ceremony
It wouldn't be a visit to Japan if you don't do one of their special tea ceremonies. You can find these ceremonies all over Japan. But the ones located in Kyoto are much more special as they have strong Zen Buddhist Roots.
When you're at a tea ceremony, everything is done carefully and beautifully. From the making of the tea to even serving the tea, all is done with precision and care.
This type of ceremony is special as it is a means to acknowledge all things associated with the tea, such as utensils, each other's company, and also the tea itself.
Stroll Through Gion District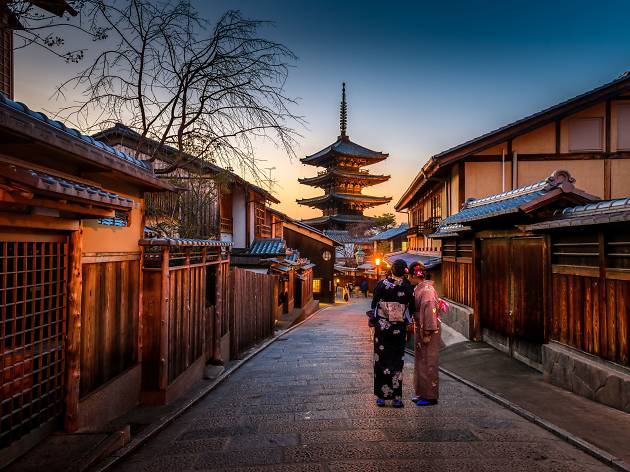 The Gion District is known as Kyoto's entertainment district. This place is filled with geishas, artists, theaters, and many other forms of entertainment.
There is even a shrine here where people can write down their hopes and dreams in hopes of making it happen.
Aside from the entertainment aspect, this place also features many different cafes and food stalls that sell an abundance of local traditional food. It is easy to spend an entire day in this area exploring everything this place has to offer.
Visit Kurama
There is a town called Kurama which is located north of Kyoto. It is famous for its traditional hotels and baths. It is here where you can find some of the best hot springs available in the city.
You are also able to hike to the top of Mt. Kurama where you will reach a Buddhist temple just above town. If you don't want to walk all the way up here, you can also take a cable car that will bring you halfway up.
Nearby the temple is a hiking trail in which you can hike around and see lots of wildlife living in the area.
View Some Cherry Blossoms At Maruyama Park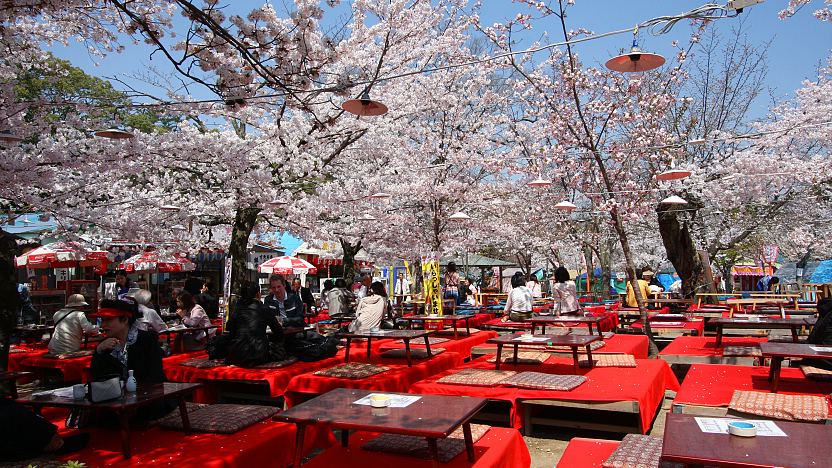 If you want to find the best spot to view cherry blossoms then you will want to head to Maruyama Park. It is the perfect place in Kyoto to go see some beautiful cherry blossoms. Plus this park has quite a few varieties of cherry blossoms, so people can come and see them in different colors, size, texture, etc. Try having a picnic here or just sit down and enjoy the view. You will love it.
Visit Nishiki Market
Nishiki Market is a market place located in downtown Kyoto. It is renowned as the place to obtain many of Kyoto's famous foods and goods. Here you can find all sorts of traditional foods, as well as handmade crafts, textiles, and much more. It makes for a nice place to stroll around and do some shopping.
Visit Sanjusangendo Temple
This temple is unique and intriguing as it is handcrafted from wood and houses over one thousand different kinds of statues of the buddha Kannon. Every one of the Buddhas is slightly different from each other and is very nice to look at. Whether you are religious or not, this temple will definitely peak your interest.
______
As you can see from this list, there are an abundance of things you can totally do in Kyoto.
It is definitely a place I would recommend anybody to visit.
Also, if you are planning to visit Japan anytime soon, you might be interested in some of my other Japan posts.
Or you can check out my complete list of things to do in Japan by clicking here.
Let me know how it goes!