What are some of the best things to do in Kobe, Japan?
After all, whenever you think of Japan, you'll think of Tokyo, Kyoto, Osaka, and maybe a few others. But one city that rarely pops into peoples minds is Kobe.
Kobe is a city that is filled with amazing scenery and vibrant areas. It even has a mountain that offers fantastic views of the entire city.
Kobe is also the city where the most famous beef can be found. That's right! I'm talking about the legendary "Kobe Beef". And it is delicious!
Aside from that, you can also find many monuments and memorials and other scenic places all around.
So if you ever get a chance to visit Japan, I highly suggest you make Kobe one of your stops if you have the time for it.
Here are 15 amazing things that all tourists should do when they visit Kobe.
15 Things To Do In Kobe, Japan
In no particular order, here are the best things to do in Kobe, Japan.
Eat Kobe Beef
Do you like beef?
Why not try the god of all beefs, the legendary Kobe beef!
This city is where the legendary Kobe Beef was born.
This beef is the highest tier of beef you are able to buy and eat and it is absolutely amazing. Although the price is definitely going to cost you, it is something you must try. The beef is marbled with a whole bunch of fat making the meet so tender and soft as if it was butter. The minute you try this beef, you'll feel as if you died and went to heaven. It literally is that good!
Check Out The Takenaka Carpentry Museum
One of the best locations to check out ancient tools that were once used in Japan is the Takenaka Carpentry Tools Museum.
There are many different kinds of tools located in here ranging from stone axes, to hammers to any other tools that were used in the times of old.
It'll feel as if you gone back to the past as you roam around looking at all the tools that were used and how they evolved into modern day artifacts.
Marvel At The Giant Tetsujin 28 Statue
Just like how Tokyo has a giant Gundam statue, Kobe has their own giant statue, The Tetsujin 28 Statue.
This statue was made as a reminder of the devestating tragedy that happened in Kobes history and also how the city was able to rebuild itself.
Climb Mount Rokko
One of the best things to do when you come to Kobe is to go up Mount Rokko. You can either walk up the mountain or take a cable car straight to the top. Once you reach the top, you'll be met with a sight like no other. Incredible views of the entire city can be seen from above. Plus, it gets even better at night when the city lights up.
Check Out Oji Zoo
A fun place to roam around especially if you have kids with you is the Oji Zoo which is the main zoo in Kobe. It is here where you are able to find all kinds of different animals on display. Plus, it's not just the animals that are fun, but this zoo also has an amusement park included as well. It features many different rides that your kids will all be able to enjoy.
Check Out The Fruit Flower Park
The Fruit Flower Park is a nice little place where you can relax and get away from all the city life.
In the park, you'll find many different types of flowers growing around. It has become a very popular spot for many traditional weddings. So if you are ever in the area, you might get a chance to see some couples dressed up in wedding attire taking photos.
Roam Across Akashi Kaikyo Bridge
Akashi Kaikyo Bridge is known to be the tallest bridge in all of Japan. It is about 283 meters high and goes across the Akashi Strait. You are able to cross a walkway that is about 47 meters high above ground and spans around 320 meters and check out the amazing features of this bridge. Do note that the floor is made out of glass, so if you have a fear of heights then you might want to be prepared.
Visit A Sake Brewery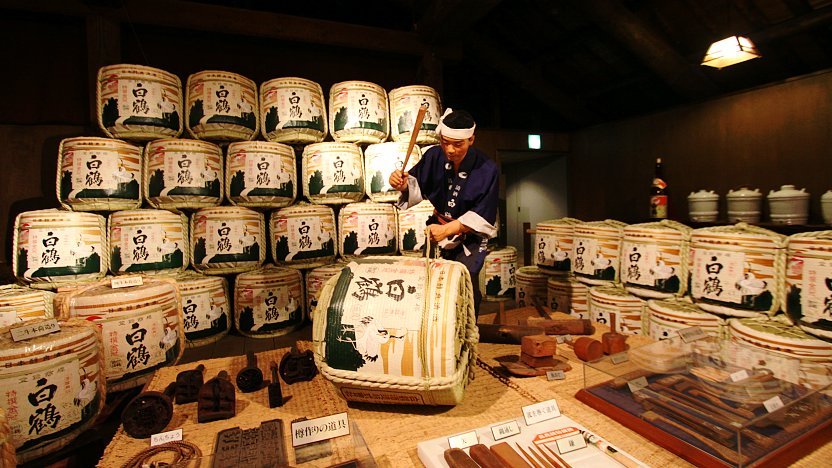 Another thing that Kobe is famous for that is not Beef, is Sake. If you are unfamiliar with sake, it basically is Japanese rice wine.
There are quite a few different breweries all around town in which you are able to tour around. They even offer guided tours to explain the history of sake and how it has come to be. Once you are done with the tours, you are also able to try out many different kinds of sake blends. One of my favorites is the Hakutsuru Sake Brewery Museum.
Attend Kobe Luminarie
If you are ever around during the December season, then you might be lucky enough to attend Kobe Luminarie. It is one of the main festivals held in Kobe and is basically a set of different colored lights maid into a fantastic view.
The lights are said to represent the life of those who died during the Hanshin Earthquake and it is a tribute to it.
Visit Nunobiki Herb Garden
Nunobiki Herb Garden is located near Mount Rokko and spans about a huge 40 acres.
Like the name suggests, this garden has a huge variety of different herbs you can explore through. They even have exhibitions that will tell you all the different kinds of herbs used in Japanese cookery.
Go Up Kobe Port Tower
Kobe Port Tower is considered by many to be the national symbol of the city. It is one of the first structures of its kind to be built in Japan using a complex series of pipes. The tower stands at about 108 meters high and allows you to get a good look at the city as well as the port of Kobe.
Explore Kobe Maritime Museum and Kawasaki Good Times World
Both the Kobe Maritime Museum and the Kawasaki Good Times World attractions are actually in the same building. Which is why I grouped them together.
The Kobe Maritime Museum is a museum where you can learn the history of the maritime industry as well as view a whole range of different unique model ships.
Where as the Kawasaki Good Times World is a place dedicated to all things Kawasaki. You'll be able to see how the Kawasaki industry started as well as view all kinds of motorcycles laying around. There are even some models of airplanes as well as a Shinkansen train here for you to tour.
Check Out Ikuta Shrine
Ikuta Shrine is a shrine made out of wood and dates back to as far as the third century AD. It is one of the oldest shrines in all of Japan.
The shrine itself is surrounded by forests of trees which makes this place a really good spot to just relax and enjoy your day.
Check Out The Port of Kobe Earthquake Memorial Park
The Port of Kobe Earthquake Memorial Park serves as a reminder of the deadly tragedy that came during 1995 when a huge earthquake hit Kobe and destroyed the city.
This memorial park will allow you to watch videos of the devastation as well as giving you an inside look at just how devastating the earthquake was.
A lot of the docks here have been left untouched to show just how much damage the earthquake has done to the city.
Look At The Nunobiki Falls
When you are tired of roaming through the city, why not go look at some beautiful natural attractions surrounding the city.
One such attraction is the Nunobiki Falls which is a series of waterfalls that flow down the mountain side in four different sections.
Do note that you will have to hike a bit before you reach the falls and some parts of the hike are very steep. So do be careful.
______
Even though Kobe might not be as famous as the other cities in Japan, it still has some amazing things for you to see and do.
Hopefully this list was able to help you in some way when you decide to visit Japan.
Also, if you are planning to visit Japan anytime soon, you might be interested in some of my other Japan posts.
Or you can check out my complete list of things to do in Japan by clicking here.
Let me know how your trip goes!