What are some of the best things to do in Japan during 2020?
After all, One of the most popular countries in the world for people to visit is Japan.
There is simply so much for you to see and do in this country. It is a place where you can find many old traditions mixed in with modern technology.
And depending on which city you choose to go to, you'll find vast differences between each one of them.
For example, Tokyo might be the city surrounded by technology, but Kyoto is the city known for its old traditions and temples all around. Okinawa is a place rarely touched by technology and is a paradise for nature and beaches while Kobe is a place known for it's famous Kobe beef.
Which is why if you decide to visit Japan, you will be amazed by all the things that you will be able to do in this country. From old traditional temples, castles and geishas to even moving robots and electronic dance restaurants. You'll feel as if you went back into the past as well as the future.
There is simply so many things to see and do.
So if you're wondering just what things you are able to do, then you are in the right place.
In this post we will highlight the 20 best things every traveler should do if they ever visit Japan.
Ready? Lets Start Exploring!
20 Best Things To Do In Japan
In no particular order, here are the best things to do in Japan during 2020.
Mario Go-Kart Riding Tour
This is probably one of my most favorite things to do every time I am here in Tokyo.
This is a tour package where you can pick the length of your tour, and from there be able to drive off seeing the beautiful views this city has to offer. The longer the length of your tour is, the more things you are able to see. I usually recommend the 2 hour tour as it covers just enough areas for you to see without being tired.
Basically what happens is that you can dress up as your favorite character and ride around the city. You need to have a universal driver's license if you want to do this because you are going to be driving on a real street alongside real cars.
Overall it is a wonderful experience that anyone who comes here needs to try as you drive around skyscrapers, temples, shrines, busy crossings, and also neighborhoods, all while random locals or tourists stare in awe.
Visit Disney Resort
What! Japan has Disney??? Yes of course they do!
And it's one of the better Disney Resorts in the world.
Tokyo Disney Resorts is one of the places where you almost have to go as it features many cool and exciting things. The resort has 2 parks, one called Tokyo Disneyland which i'm sure most people have heard of since we also have a Disneyland here in the states. It's a classic Disney park that is suited for kids or adults remembering their childhood favorites. Filled with a fairy tale castle and Disney rides like the Space and Splash Mountains.
Tokyo Disney Resorts also has another theme park called DisneySea which is unlike any other Disney park in the world. This special park features seven different ports inspired from real life places and ocean legends. The attractions here seem to be geared more towards adults.
Which ever park you decide to hang out at or even both, i'm sure you will have a blast.
Explore Toyosu Fish Market
As we all know, Japan is famous for it's fish.
So what better place to get fish than the Toyosu Fish Market. It is a brand new fish market that just opened up in 2018 after relocating from Tsukiji Fish Market. This new market is almost twice the size of the old Tsukiji market with two large buildings being used just for selling wholesale seafood and fruits and vegetables.
There's also plenty of new restaurants in the market that are selling the FRESHEST seafood you will ever get your hands on.
Entry to this location is free, but you will need a visitors badge if you want to check out the tuna auction from the viewing platform above.
Visit The Robot Restaurant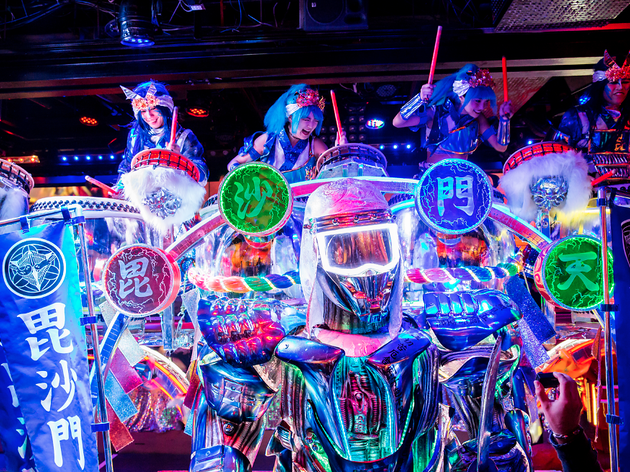 Even though it is called a restaurant, it isn't really a restaurant technically. You aren't going to be served by robots or anything. However what you do get is to dine over here while watching a show about girls dancing with robots and cyborgs.
It is a very futuristic experience that is weird, quirky, and yet fun. Featuring robots, dragons, ninjas, dancers, clowns, bright neon lights and loud music.
So if you are into weird futuristic dancing and music than this is the place to be.
Visiting The Anime Paradise Of Akihabara
Known as the Electric Town of Tokyo, or to anime fans as Heaven on Earth. This place is known for its sheer amount of anime, manga, and gaming items.
If you ever need to get a certain game or anime item, this place is guaranteed to have it in stock.
They also have tour guides which can guide you around the area while teaching you the history of anime and its culture.
Not only that but if you are hungry than you can stop at a unique place called a Maid Cafe. This is the place where you are being served by a girl who dresses up as a cute maid and serves you all type of cute foods.
Watch Some Sumo Wrestling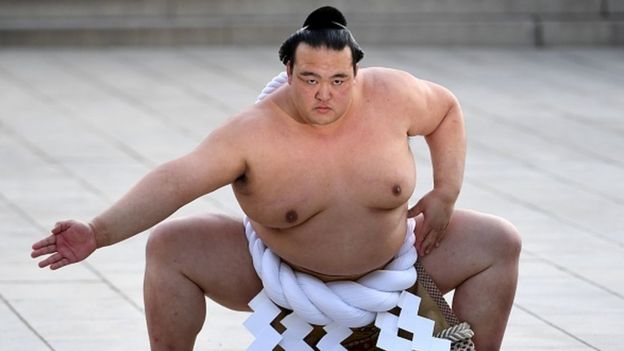 Want to watch some Sumo? Well you're in luck! Japan is one of the only countries in the world where Sumo is being practiced professionally. So why not take a stop at Ryogōku, which is the capital of sumo culture.
The most famous place for Sumo is the Ryōgoku Kokugikan Sumo Stadium which is a sumo hall that has at least 6 sumo tournaments every year. You can also learn the history of the sport at the Sumo Museum or even eat at a sumo themed restaurant over here.
Try Some Kobe Beef
Do you like beef?
Why not try the god of all beefs, the legendary Kobe beef!
This beef is the highest tier of beef you are able to buy and eat and it is absolutely amazing. Although the price is definitely going to cost you, it is something you must try. The beef is marbled with a whole bunch of fat making the meet so tender and soft as if it was butter. The minute you try this beef, you'll feel as if you died and went to heaven. It literally is that good!
Eat The Poisonous Fish Fugu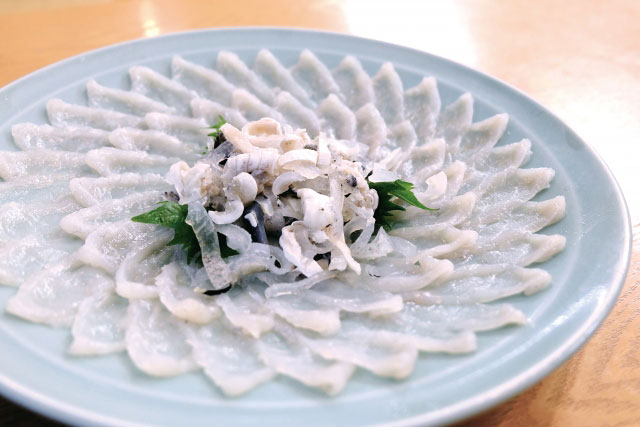 Dare to try something risky and exciting?
In Japan you can try your hands on the delicacy called Fugu. It is a type of pufferfish that is extremely poisonous. Only certain restaurants serve this type of fish because only certified chefs can prepare it. If they prepare the fish wrong then you can most likely die from eating this type of food.
However the death rate from this fish is relatively nothing since almost all chefs who serve this type of fish are masters of their craft. You can eat the fish sashimi style, deep fried, made into a soup, etc.. there are so many different ways the chef can prepare this meal.
Be warned though because Fugu is pretty expensive so if you are tight on a budget, maybe you should order a smaller portion instead.
Visit The Meiji Shrine
One of the most famous shrines in all of Tokyo and the entire Japan.
Millions and millions of people come visit this shrine during the new years. It is a beautiful shrine built in honor of the Emperor Meiji and his wife, Empress Shōken. Being in close proximity to many hot tourist spots such as Harajuku, Omotesandō and Shibuya, one can totally see why it is one of the most popular shinto shrines in Japan.
Participate In A Tea Ceremony
The Japanese tea ceremony has it's rooted dated way back in the history of Japan. It's is a ceremonial way of preparing and also drinking green tea, usually in a traditional tea room with a tatami mat floor.
Aside from serving and receiving tea, one of the main purposes of this tea ceremony is so that the guests who come can enjoy the hospitality of the host in a nice and slow atmosphere different from your usual fast pace everyday life.
Rent A Room In A Love Hotel
If you are out and about and want a quick nap or some lovey dovey time, then a Love Hotel might be the place for you. These hotels typically rent rooms for a short period of time. They also come in many different shapes and sizes from the super basic to even quirky themed rooms. Some of the hotels even offer outfit rental facilities so you or your guest may interact in some cosplay.
Visit An Animal Cafe
Animal cafes are all the rage in Asia.
And just as expected, Japan has a multitude of these cafes. Ranging from Cats to dogs to owls to even hedgehogs. There are tons of these cafes all over.
For those that don't know what a animal cafe is, it is basically a cafe that serves coffee while letting you interact with the animals. It is a great way to relieve stress while also having some fun.
If you do come here, you might want to keep a close eye on your coffee or food so the animals don't try to take a bit out of it or get their hair on it.
Try Out An Onsen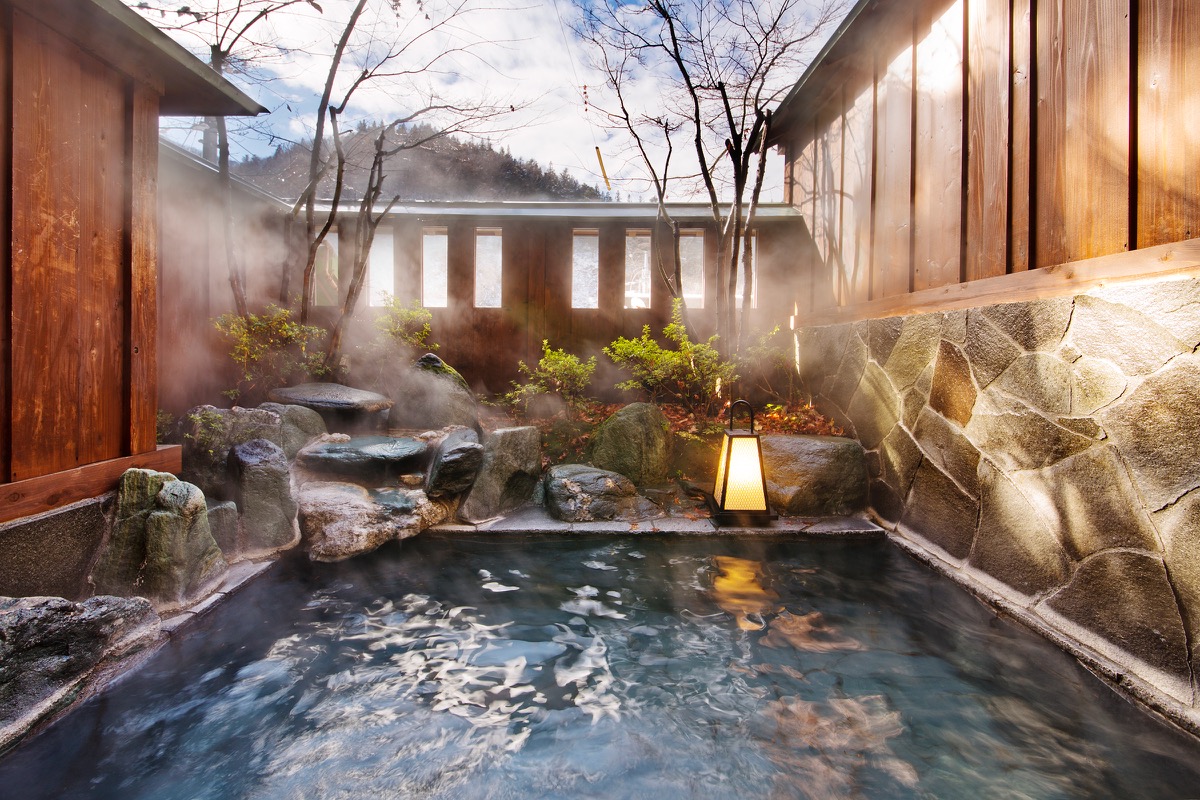 One of the things you almost have to do if you go to Japan is to take a dip in an Onsen. It's basically a hot bath soak that'll leave you feeling so refreshed. However most of these places don't allow people with tattoos into them as they don't want to be associated with organized crime. So if you do have a tattoo, you may be turned away. But there are some locations that allow people with tattoos inside as long as they cover it up.
Visit Dotonbori
Dotonbori is the place where you can experience all the best things the city of Osaka has to offer.
It is filled with all sorts of bars, restaurants, cafes, street vendors, shops and everything else you can think of.
Come here during evening to enjoy a relaxing atmosphere while chowing down on some delicious food. The food here is all amazing as they will have a whole variety of street foods available for you to buy.
Some foods you must try are Takoyaki, Yakitori, Yakisoba, and much much more.
A lot of these shops here also have their own roof terraces where you can sit outside and watch the live entertainment happening around you or just people watch and enjoy the scenery.
Universal Studios Japan
Universal Studios Japan is one of the 4 Universal Studios that is located all around the world.
Just like the other Universal Studios, the rides are based of famous movie/cartoon franchises that are beloved by people all around the world. It is here you can find many creative rides featuring Spiderman, Minions, Jurassic Park, and much much more. They even have an entire area dedicated to Harry Potter.
But it wouldn't be a Japan theme park without some Japanese attractions. They have certain themed rides that are only available here in Japan, like the Snoopy rides or Hello Kitty.
Overall a great place that is always loved by tourists everywhere.
Visit Osaka-Jo (Osaka Castle)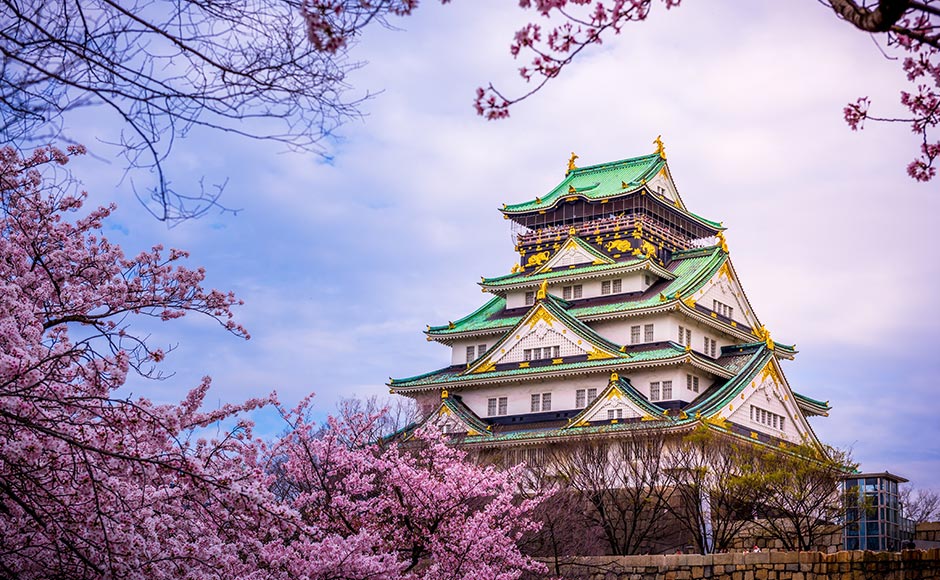 If you are looking for a piece of history, then why not take a visit to Osaka Castle. It is the perfect place to see the cultural and historical aspects of the city.
This castle was built in 1583, however it was destroyed shortly after. It has however been reconstructed back in 1931 and has been remodeled completely. The insides are no longer parts of the castle but instead built to resemble a museum that showcases artifacts and tells the history of the castle and the city.
Plus, the castle is surrounded by cherry blossom trees. So if you come during the right season, you will get a chance to see an abundance of beautiful cherry blossoms growing around the castle.
Surrounding the castle is the beautiful Nishinomaru Garden which is a park that has many beautiful views all around.
While you are here, you can also try on Japan's iconic clothes and accessories from Kimonos, helmets, to even samurai outfits. They'll even help you take your photo when you are wearing these items.
Definitely a must see place when you are ever in Osaka.
Visit The Osaka Aquarium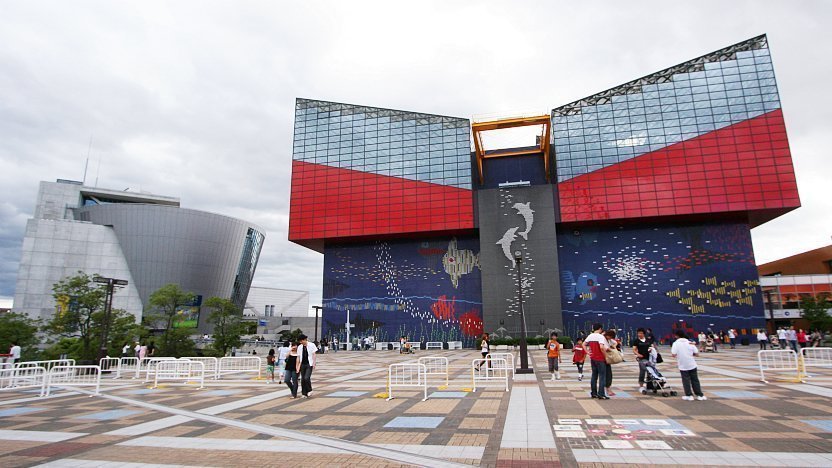 The Osaka Aquarium is one of the largest aquariums in all of Japan. It features 8 different floors of exhibits that includes all kinds of marine life ranging from otters, dolphins, sharks, penguins, and much more.
If you love looking at sea animals, then this place is definitely for you.
Walk Through The Fushimi Inari-Taisha Shrine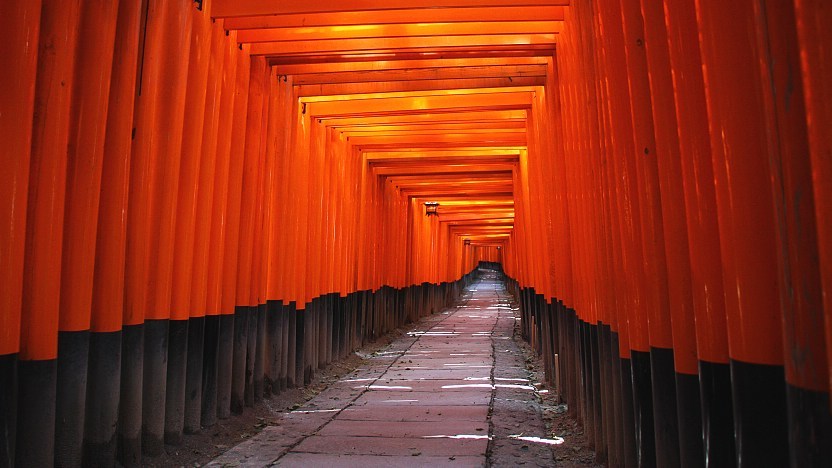 You have probably seen pictures of these beautiful red orange pillar gates at some point in your life. They are the iconic Inari-Taisha Shrine Pillars located here in Kyoto. These pillar gates honors the Shinto God Inari, who is known as the god of rice. There are literally thousands of these traditional torii gates all around the path. You can easily spend an entire day walking through the path and see the beautiful gates surrounding you.
Not only that, but half way up the mountain path, you will be able to see amazing views of Kyoto at the Yotsutsuji Intersection.
Visit The Bowing Deer At Nara
When you head to Nara, you will be met with an abundance amount of deers just roaming around freely. These deers are something special as they are eagerly waiting for you to feed them. The best part of it all is that when they want food from you, they will even bow their heads down to you. It is extraordinary. However in some cases the deers can be pretty aggressive when they are wanting food. Still a fun place to visit if you want to pet deers and feed them.
Definitely a must visit place if you love Japanese cartoons.
Check Out Mt. Fuji
Mt. Fuji is probably Japans biggest mountain and the one that is most famous. Every summer, there will be countless amounts of people who will try to climb this towering mountain. Even if you don't want to climb this mountain, you are still able to get some nice scenic shots of this mountain from certain locations. Definitely a sight to see if you decide to visit Japan.
Bonus: Check Out Hiroshima Peace Memorial Park
Because of the nuclear bombings that happened on this country, Japan has decided to build a memorial to remember those that have passed. It is a neat little place that will give you an inside look at just how devastating this event was and how it shaped the world.
_____
Overall, there are a ton of different things you are able to see and do in Japan.
This list is mainly to provide you the 20 most popular things people tend to do when they visit Japan. There are still tons more things available that you are able to do.
Also, if you are planning to visit Japan anytime soon, you might be interested in some of my other Japan posts.
Or you can check out my complete list of things to do in Japan by clicking here.
Let me know how your trip goes!