What are some of the best things to do in Furano, Japan?
After all, Furano is a town that is located inside the island of Hokkaido.
It's nickname is the "Belly Button Town", mainly because the town of Furarno located in the exact center of the island of Hokkaido.
There are many things that makes this town so interesting.
For instance, this area is pretty well known for it's winter sports so you can find things such as snowboarding, skiing, sledding, and any other sort of winter activities that are going on around here.
It is also considered a farm town, so you will find countless amounts of plantations and farms all around.
So if you ever decide to visit this town, you'll be surprised to see that there are quite a few things you are able to do here.
So here are the 18 best things you are able to do in the town of Furano.
18 Things To Do In Furano, Japan
In no particular order, here are the best things to do in Furano, Japan.
Visit The Tomita Farm
One of the main attractions in the town of Furano is the flowers that bloom around here. And the best place to view these flowers is on the farm Tomita which is one of the best places to visit.
The fields here on this farm are covered in a huge pile of beautiful lavender flowers that goes on forever. A perfect place for you to roam around and enjoy the view.
Play In The River
As you know, the town of Furano is right next to the amazing Sorachi river.
This means that because there is a river here, you are bound to find all sorts of water based activities throughout the year. With things like rafting, fishing, swimming etc, you will definitely be able to have some serious fun here.
One of the best ways to have fun on this river though is through kayaking. You are able to rent a kayak and just paddle down the calm waters and enjoy the beautiful scenery surrounding you.
Become A Farmer
Like we said earlier on in this post, Furano is also known for its many farms throughout the area.
Many of these farms offer you a first hand experience at being a farmer. They will allow you to visit and try to harvest some of the seasonal craps just like how the farmers do it. Things like picking asparagus from the ground, digging for potatoes or even picking berries are all things you can expect from harvesting at a farm.
Check Out A Brewery
Just like other places in Hokkaido, Furano is also known for the beer it makes. And there is no other place than the Furano Brewery.
Here you will find a variety of different beers in all kinds of flavors.
You are also able to take a tour of the brewery and find out the history of the brewery as well as how they make the beers.
Check Out The Furano Cheese Factory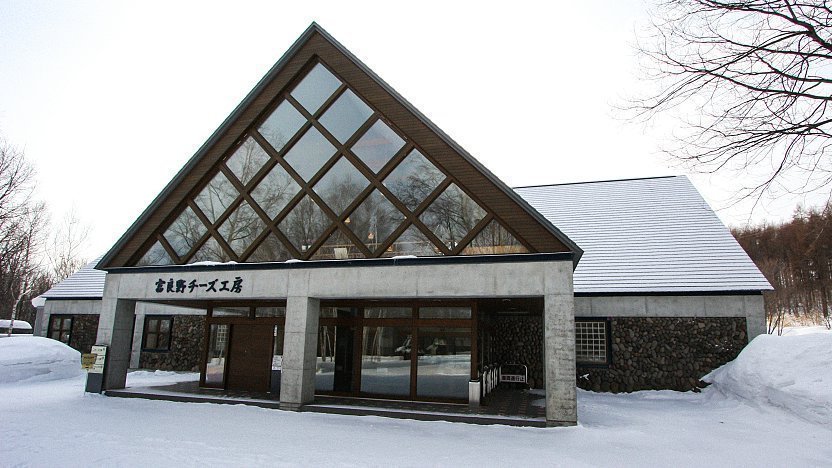 If you love cheese, then you'll be pleased to know that there is a Cheese Factory here in Furano.
To be honest, this place isn't just a factory, but also plays the role of a museum as well.
Inside you can find all sorts of different kinds of cheeses being made and sold as well as information about cheese too. You are also able to churn your own cheese or ice cream as well.
The specialty here is the squid ink cheese which is a eerie black color but despite how it looks, it tastes fantastic.
View The Belly Button Festival
Just as you would expect, because the town of Furano is nicknamed the "Belly Button Town", there is even an annual festival that takes place known as the Belly Button Festival.
This festival is held once a year every year in July as is the premier event of the town. You'll be able to see people walk through the streets with faces painted on their stomachs as they wear costumes that expose their belly buttons.
Aside from the main festival, there are also a bunch of other events happening around this time like dance performances and musical entertainment.
So if you are planning to visit, definitely try to come around this time.
Visit Furano Jam Garden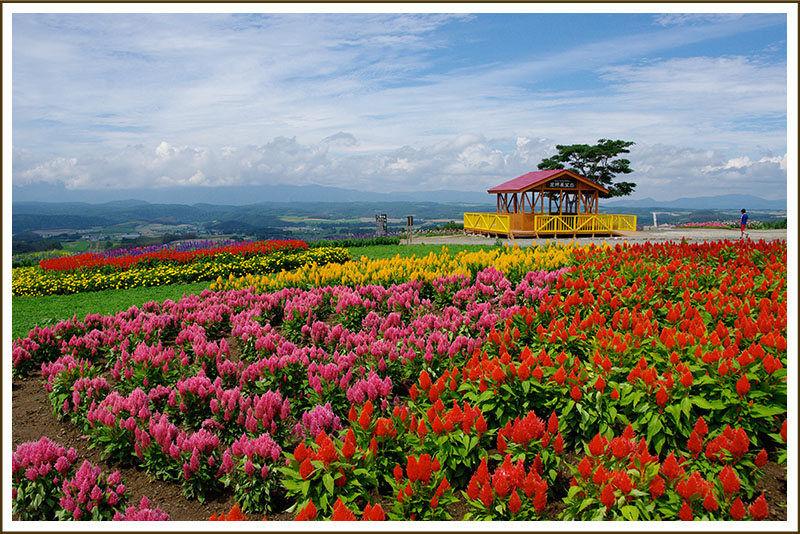 One of the most famous areas to visit in the summer is a place called the Furano Jam Garden.
This farm is famous because of the gift shop located here as you are able to try tons of different varieties of jam as well as having your own chance to make your own jam.
Plus, once you are done buying jam, you can also walk around the farm as there are plenty of berries grown all around and you'll be able to see just how the farm uses the berries to make the jam.
Climb Up A Mountain
One of the best places to climb a mountain in Japan is here at Furano.
Plus, during certain times of the year, Shinto monks will even come do a ceremony where they pray for the safety of all the hikers about to trek their way up the mountain.
As you climb up the mountain, you will be able to see all types of different flowers growing around as well as amazing views of the city.
Tour Kamifurano Pioneer Museum
The Kamifurano Pioneer Museum is a small museum that tells you the story about Kami-Furano which is the northern region of the Furano area.
It is here where you are able to find the history of the area as well as pictures of many famous people who once lived here.
Not a bad place to visit if you have some spare time to use up. They even have an area next to a flower garden where you can have a picnic.
Hike Around
Furano is home to a variety of different hiking trails all around.
They will even give you a free map that shows all the best routes to hike from the main tourist office in town.
It's a beautiful way to relax and get unwind as you roam around the town and take in the amazing sights all around you.
Shop Around Ningle Terrace
Ningle Terrace is a nice little shopping area that is famous for offering many local specialties.
The shops are all designed as traditional log cabins which makes the entire area feel very warm and cozy.
Here, you'll be able to find a variety of shops that sell many popular local items such as foods, gift items, and even Furano wine.
Ride A Tractor
One thing you might be interested in if you are traveling with young children is that you are able to ride on a tractor.
Now most often you can find these tractor rides taking place on various farms and they will allow you sit in a cart behind the tractor as you relax and unwind while the tractor is pulling you around.
Visit A Winery
One fun thing to try if you love wine is to visit a winery. The Furano Winery to be exact, as you are able to find all the local wines that are made in this region.
You'll be able to try some white and red wines as well as their special blend which is made from lavender.
A pretty neat place if you want to indulge yourself in some wine.
Check Out A Melon Farm
As some of you may know, Japan is home to some of the most expensive and prized fruits in the entire world. Some of the fruits can go to the hundreds if not thousands of dollars just for one single fruit.
It's to no surprise that the reason the fruits cost so much is from the extraordinary care that the fruit farmers give to make sure the fruits turn out the way they do.
Furano is no exception, as it is known for its many delicious and tasty fruits and vegetables. However one thing in particular that is special here is the Furano sweet melon.
You are able to find melon farms all over the town and it will allow you the chance to see how they are being grown and raised.
Ride A Hot Air Balloon
If you are wanting to view Furano from some place unique and different, then you might want to consider riding a hot air balloon.
There are many companies all over Furano that will do this.
You'll be taken high above the sky and be able to get a fantastic view of the surrounding area. Your guide will even tell you details about different parts of the land as well as narrate to you while you are in the air.
Attend The Furano Wine Matsuri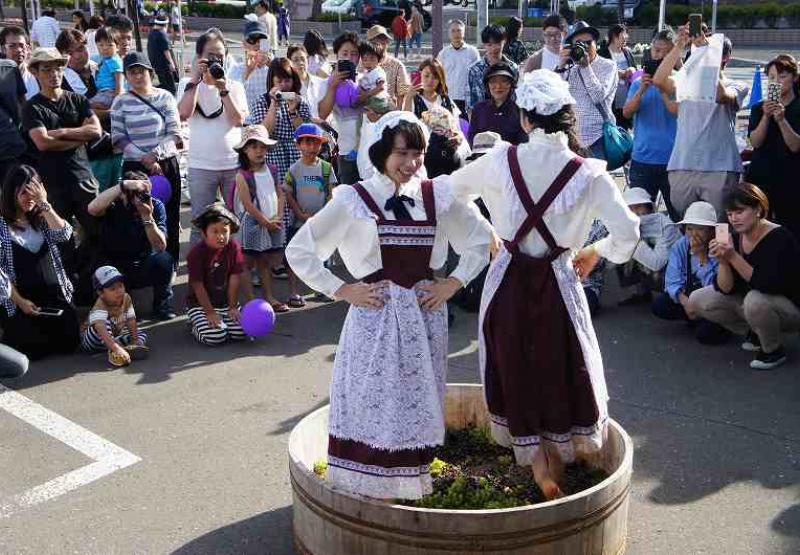 Furano Wine Matsuri is an annual festival that is held on the third Sunday of September.
This festival is basically kind of like a harvest festival where the local farmers attend and show off all the things that they have grown.
Which means you are able to find a whole bunch of fresh foods at extremely good prices.
Check Out The Hands On Workshop
One thing that is pretty neat is that Furano has a hands on workshop. What this place does is basically show you how to make some of the popular items in Furano.
It is here where you are able to learn how to churn ice cream, as well as make cheese and butter and even bread. Once you are done making your item, you get the chance to taste what you created.
It's not just food that you can create over here, but you are also able to learn how to make some handicrafts like candles, glass objects and even flower boxes.
Relax In An Onsen
If you have ever seen my other posts about places to visit in Japan, you'll notice that Onsens are pretty common all throughout Japan. Many different cities have their own type and style of an Onsen.
In Furano, there are three natural hot springs here which are all out doors. There are also some indoor hot springs as well if you do not want to be outside.
Overall, it is a great way to relax and unwind your body.
______
Furano is a place that I think many people will enjoy.
It is located in the most center part of Japan, so definitely there will be some region specific things you are able to find here.
It's not the same as the other cities in Japan, but still provides it's own sense of style and culture.
If you are ever going to visit Japan, hopefully this list was able to help you in some way when you decide on places to visit.
Also, if you are planning to visit Japan anytime soon, you might be interested in some of my other Japan posts.
Or you can check out my complete list of things to do in Japan by clicking here.
Let me know how your trip goes!