How do you have fun in Vegas on a budget?
After all, Vegas is a place filled with luxury restaurants, high end hotels, amazing shows, awesome night life and many other fun and exciting things. With so many things to do here, one might think that Vegas is a really expensive place to go to.
And in fact, it definitely can be.
However you might be surprised to know that you can actually visit Vegas without spending a lot of your money.
There are in fact many ways to save money here and also there are many free and inexpensive things that you can do.
So even if you are not a rich person, you are still able to enjoy your time and have fun while in Vegas.
Here is how you can do Las Vegas on a budget.
Booking Your Flight Ticket For Cheap
One of the most expensive things about your trip to Vegas is the flight tickets. Depending on when you buy, the prices can either be super expensive or super cheap. So if you are wanting to book your Vegas tickets for cheap, here is how.
Usually airlines will make tickets to Vegas pretty expensive no matter what time of the year it is. However majority of the time they tend to increase prices during special events or holidays. Also booking your trip during the weekends can also increase prices.
A good time to book your ticket is during the weekdays when most people have work or school. Also you want to make sure that there is no special events or holidays happening during that time of the trip. This will normally get you cheaper than normal prices for your trip. Often times I have been able to find tickets 50% cheaper than usual with this method.
Also it is a good idea to sign up for airlines email list so that they can send you special promotions whenever they are happening.
Definitely one of the best ways on learning how to go to Vegas on a budget.
Do note: Spirit airlines tends to give the cheapest deals of the airlines that will give you the cheapest prices to travel around. However because it is so cheap, they will usually have many things that can add on extra fees to your price.
Booking Your Hotel For Cheap
Hotels can often be one of the biggest cost that you'll endure during your trip to Vegas. Which is why you should try to get your rooms for cheap. After all, you can't go to Vegas on a budget when you're spending hundreds just on a hotel room.
If you are wanting to book your hotel for cheap than it is best to join that hotels membership program. Each major hotel in Vegas will usually offer some type of players club which you can join. This will allow you to get immediate access to discounted rooms and exclusive promotions. Some popular membership programs are like M Life, Total Rewards, and many others.
Another tip to scoring cheap deals on rooms is for you to visit during a off day. As in visiting when there is no special events or holidays going on. As usually when something is going on, the hotels will bring up there rates.
Not only that but come during a weekday for the cheapest prices. Usually weekends will have more people coming to Vegas so these hotels tend to bring up the price. However on weekdays, there aren't that many people coming in so prices tend to be a lot lower to attract more people.
Since you are wanting to book your hotels for cheap, it's best to stay in one of the cheaper hotels a long the strip. Sure they might not be as fancy as some of the top tier ones, but they are still better than your usual motel 6.
I recommend these hotels for you to stay in if you are on a budget:
Depending on the time you decide to book, you can usually find rates as low as $30 dollars a night! That is a steal!
Do note: Every hotel usually has some type of resort fee that they add on to the price of the room. So you might want to check around and see which hotel gives the lowest resort fee.
Transportation Around The Area
First thing that you'll notice about the Vegas Strip is that it is long, about 4.2 miles long from end to end.
Now when you think of Vegas, you'll think about everything that happens on the strip. However there are other places that you might want to visit like in old downtown Fremont where all the original casinos are. Or you might want to visit the 7 magic mountains. Whatever it is, some things are pretty far away from the strip so you might want to consider some form of transportation.
And typically transportation can be pretty expensive in Vegas, however there are ways around it.
Try walking – Depending on where you are, sometimes walking might be a good form of transportation. Especially on the strip, since it is only about 4.2 miles from end to end, there is no reason for you to take a taxi or uber around side to side. Sure it might take a bit to reach some places but it is still better than paying money.
Don't use taxis – Never use taxis in Vegas. They are famous for being overpriced and sometimes might even take you on the long way just to rack up the meter price.
Take the Bus – The bus which is also called the Deuce is a bus that can take you from the South Strip Transfer Bus Terminal near the airport all the way down to Fremont Street in downtown. The bus is also pretty cheap. For instance for $6 bucks you can ride the bus for 2 hours, or for just $2 more, you can ride unlimited for the entire 24 hours of your day. It is a great way to travel places around the strip or downtown
Take a Uber or Lyft – Uber or Lyft are great alternatives to travel around Vegas at cheap affordable prices. I took a taxi from the airport once to the strip and it costed me $26 bucks. However when I had to go back to the airport I decided to take an Uber. That ride only costed me $8 bucks. That is cheap!
By following these methods, you'll definitely be able to enjoy Vegas on a budget.
Where to Eat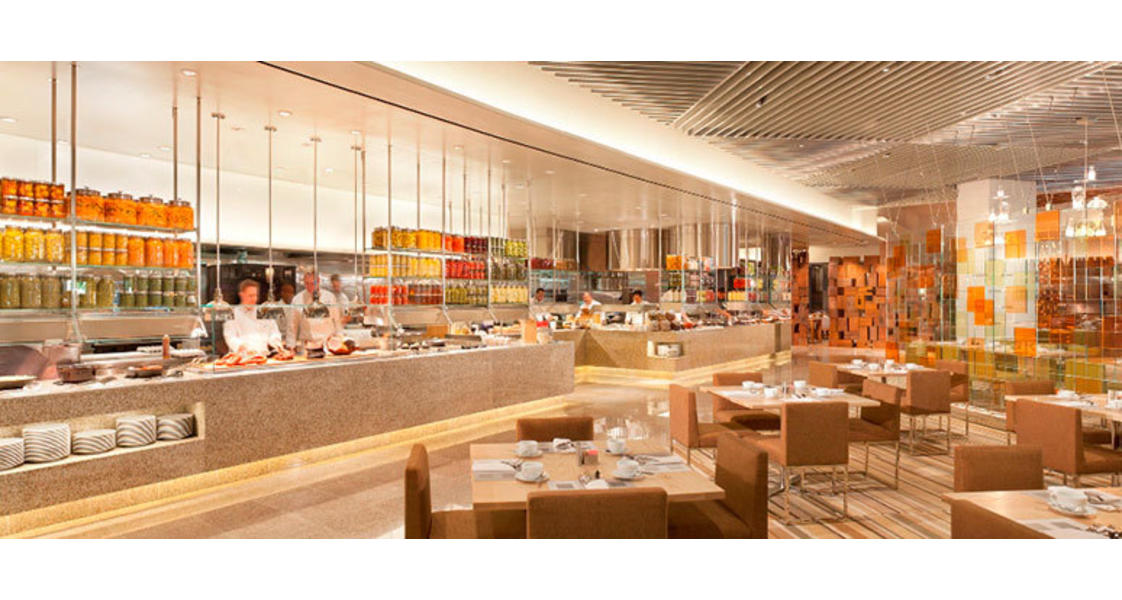 Buffets
Food is one of the main reasons why I come back to Vegas every year. However sometimes it can be expensive, which means that you can't really enjoy your experience of going to Vegas on a budget. But there is something you can do.
Buffets are a good place to eat as you can eat as much as you want for however long you want.
Now most buffets in the Vegas Strip have different prices whether it is breakfast, lunch or dinner. Breakfast being the cheapest and dinner being the most expensive. There is a tip however if you want to try out 2 different meals at the same time. If you go to a buffet before the price chance than you can try out what they are serving currently and the new food they change out to in a little bit after.
An example is like lunch runs from most buffets up till 3pm. After 3pm is usually dinner time. So if you go before 3pm then you can pay for the lunch price but eat both the lunch and dinner items as well! A great way to save some money.
Some of the best buffets in the Vegas Strip are:
Baacchanal Buffet
The Bellagio Buffet
Wicked Spoon
Buffet at the Wynn
Now most of these buffets run around $30-50 bucks depending on which one you want to go to.
However there are cheaper buffets, although the quality of the foods aren't as good. For instance, the buffet at the Exaclibur has a special deal where you can pay $50 bucks and eat the entire day from open till close. Or if you just want 1 meal then it costs about $20 bucks.
Regular Restaurants
Now if buffets aren't to your fancy, then you can be happy to know that there are a lot of fast food restaurants that are pretty cheap to eat at. There's in-n-out or mcdonalds or taco bell etc..everything you can ever want.
Cheap Things To Do
Gamble a bit
Now it wouldn't be an official Vegas experience if you don't gamble a bit.
However you should do it with caution, as there is no faster way to throw all your money away than by gambling. But if you plan out beforehand how you are going to gamble than you can save a lot of money.
For instance, before you start to gamble, you want to think of how much you are willing to spend on gambling. Once you use up that money then that's it. No more gambling.
Now if you want to try something that can last you awhile and also has a nice chance to earn some money than you can try craps. It is a simple game where just a few bucks can last you quite a while. Now most casinos have a bare minimum of $10 to play, however if you look around hard enough you might find $5 tables.
Drink for Cheap or almost Free
Drinks might be a costly thing to buy when you are in Vegas. However there is a way around that. The way it works is that when you gamble, servers will walk around and bring you free drinks if you ask for it.
Now I know what you might be thinking. Gamble? But isn't that wasting money and also like buying yourself a drink?
Well no, there is a method to this. A trick I learned is to just go to a slot machine and sit down. Put in like a few bucks and *pretend* to play. As in just move your hands around but don't actually press any buttons. Then when a server comes around, all you have to do is ask for a drink and they'll bring it to you. Then you can cash out your money and go back to what ever you want to do.
This way you can keep your money and also get a free drink.
Watch some Shows
Vegas has many things that you can do. However one of the main things about Vegas is the abundance of shows that it has to offer. From Magic shows, to Cirque du Soleil shows, to Singers etc.. there is something for everyone.
However show tickets can be pretty pricey, which is why you should not pay full price for them. A site Vegas.com has rates that are pretty good and affordable for many of the shows.
Visit the Pool
It is a vacation after all, and what better thing to do than to sit back and relax in a pool sipping on some drinks.
After all, Vegas is filled with pools of all sorts. Plus you are paying for it with the resort fee so you might as well use it. Now if you want to go to another pool at another casino, it might cost you a few bucks but it might be worth it.
Free Things To Do
Visit some Casino Attractions
Bellagio
The most famous attraction on the Las Vegas Strip. They have a water fountain show that takes place every 30 minutes during the day and every 15 minutes at night until midnight.
Inside the Bellagio near the hotel lobby is a full blown glass art installation on the ceiling that is definitely a sight to see.
Inside the Bellagio is a huge room called the Conservatory & Botanical Gardens. Each season the casino will change up the display for the entire public to see. One of the best things ever to see here in the strip.
Caesars Palace
Located near the forum shops, the Fall of Atlantis is a free show at Caesars Palace that plays every hour once an hour starting at 11am.
Check out the 50,000 gallon fish tank featuring over 300 salt water fish.
The Mirage
In front of the Mirage is a giant volcano that erupts at 8 p.m. and 9 p.m. Sunday through Thursday. An additional 10 p.m. show will be offered Friday and Saturday.
The Flamingo
In the Flamingo there is a flamingo wildlife habitat where you can see live flamingos. You can even feed them.
Circus Circus
In the hotel lobby there will be a performance every half hour featuring acrobats, clowns and jugglers.
Take pictures around iconic buildings
Go in front of the Paris and visit the replica Eiffel Tower.
Visit the sphinx at the Luxor.
Check out the amazing skyscrapers at New York New York
Check out the amazing pirate ships at treasure island
Look at the roman themed decorations at Caesars Palace
Fremont Street
Watch as people zip line through the skies
People watch as you walk around the street.
On the Street of the Strip
Take pictures with scantily clad girls or guys
Take pictures of Street Performers
Free events and things to do on the Vegas strip is definitely one of the best ways you can enjoy Vegas on a budget.
Venture Outside The Strip
Vegas isn't just about the strip or Fremont street.
In fact, there are some things you might be interested in doing aside from just gambling or drinking.
Visit Red Rock Canyon which is only about 30 minutes away from the city. A perfect place for you to hike around.
Visit the 7 Magic Mountains which is a colorful rock sculpture that is pretty close to the city
If you love architecture, then you will be happy to know that the Hoover Dam is not too far away. Entrance is about $10 bucks and is a pretty cheap price to pay to see something marvelous.
By venturing out of the strip, you will definitely be able to enjoy vegas on a budget.
---
Overall, Las Vegas isn't just a place of high rollers and expensive things. There are plenty of things that you can do to enjoy Vegas on a budget.
As long as you do some research, you can find plenty of affordable things to do.
So hopefully this post was helpful to you on better learning how to handle Vegas on a budget!
Also if you are going to be visiting Las Vegas anytime soon, you might be interested in some of my other Las Vegas Posts.
Or you can check out all my blog posts by click this link.
Hope you have a safe and fun trip~