How are you suppose to get around Seoul, South Korea?
After all, South Korea is one of the most popular spots to visit nowadays.
With a bustling tech scene and a vibrant culture that is taking over the world, this country has it all.
It is currently the fourth largest economy in Asia and the eleventh largest in the world, which means it's technological advancements are far ahead many other countries.
With the influx of tourists coming to this country and the economic status that its in, you can pretty much guarantee that this country is extremely busy.
Especially the capital city of South Korea which is Seoul. It has the biggest population among all of Korea's cities.
Which is why if you are going to be visiting this area, you should know how to make use of the transportation.
With that being said, this guide will show you how to do just that.
We will be talking about all the methods of transportation you could choose from and which is best for you. This way, once you read this post, you'll be able to travel and get around Seoul, South Korea like a pro.
So lets get started!
Transportation In Seoul, South Korea
By Subway Train
Traveling by subway is probably the most efficient and comfortable way to get around the country.
It minimizes unnecessary transportation fees as well as making the entire process hassle free.
Plus it is really cheap to ride on a subway train which means you can travel all around the city without having to break the bank.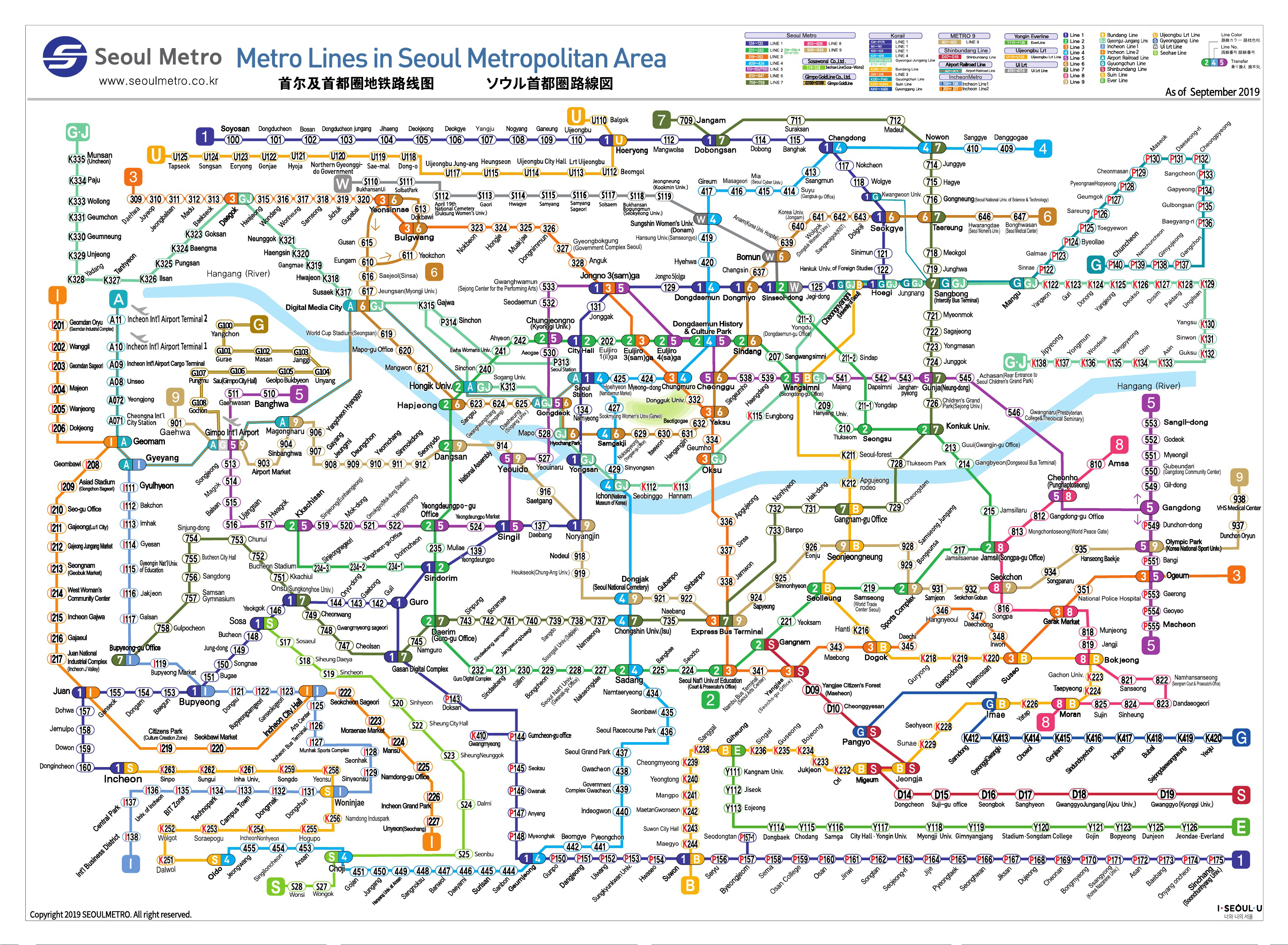 As you can see from the image above, the subway map is filled with colorful lines and stops that are numbered.
This means that with little effort and little time devoted to memorizing the map, it will be effortless to go anywhere you want.
Even if you can't read or speak Korean, you'll easily find your way around Seoul on the metro.
All the station signs and maps feature romanized names in addition to the Hangul. Even the loud speaker recordings are repeated in both Korean and English.
Do know that to ride a subway, you'll have to buy a pass that is either for multiple or single journey rides.
With the pass, you'll be able to transfer freely between the lines.
Here is the cost of the pass:
In addition to the costs, higher rates are applied to certain lines like the Sinbudang Line and Airport Railroad Line.
Not only that, but extra fares are charged depending on how far you want to travel.
Specifically, 100 won per 5 kilometers if the distance is between 10 and 40 kilometers, 100 won per 8 kilometer after you have travelled over 50 kilometers.
How To Get On A Subway Train
Like we said above, every time you wish to travel someplace, you will have to buy a pass.
What you do is typically go to the vending machine inside the stations that distributes these passes. You'll make a 500 won deposit which is then reimbursed upon your arrival at the chosen destination.
You'll then be able to buy tickets which come in the form of cards.
It's actually a really easy thing to do since the user interface of the machines also come in English, so you won't have to worry about getting confused or lost.
Plus, they even have a step by step guide that shows you how to get your tickets.
Once you get your ticket, you'll just proceed along the route to your subway train.
You'll see some scanners along the way in which you'll place your card over it and it will let you pass on through.
Just follow the specially coded signs in the station to find your subway line and start riding.
After you are done with your ride, you'll have to use your card again to pass through the next set of scanners.
Do note: if you bought a single journey pass, just return your card to the "Deposit refund device" box to be reimbursed.
By Taxis
Even though Seoul's subway system is extremely efficient and easy to use, sometimes riding a taxi is just a better choice.
So if you ever find yourself in a situation where you need to ride a taxi, here is what you should know.
Regular taxis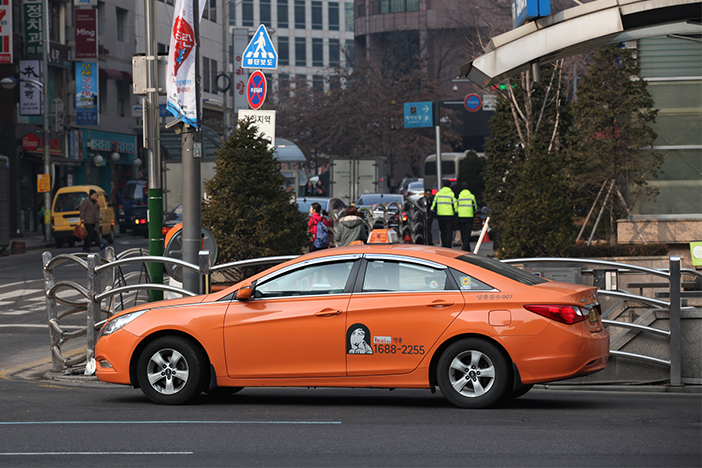 Did you know that there is actually multiple different types of taxis in Seoul?
As many as 4 different types!
The first one that we are talking about is your basic average regular taxi. It is the cheapest and easiest to flag down among all taxis. You can easily spot these taxis from their monotone color which is most commonly orange, but do also come in gray, white and other colors as well.
When you first board these regular taxis, you should most likely expect to pay about 3000 won base fare per 2km traveled.
From there, the distance fare and idle charge are as followed: 100 won for every 142 meters travelled and 100 won for every 35 seconds that the cab is immobile.
Also, something to remember is that if you take a regular taxi between the hours of 12am and 4am, you'll be hit with a 20 percent late night surcharge.
Deluxe Taxis and Jumbo Taxi's
The next two taxi's that you should know about are deluxe taxis and jumbo taxis. You can recognize both of them by their jet black exterior with gold lines across the side. However, they differ in that the deluxe taxis are basically similar in size to a regular taxi where as the jumbo taxi can fit up to 8 passengers.
These taxis are easily found at major tourist hotspots or major hotel chains.
You should also know that both of these taxi's are much more luxurious and safer than the regular taxi. However they do cost much more than a regular taxi as well.
The base fare for these taxi's are usually around 5000 won for every 3km traveled with 200 won for a distance of 164 meters and a 200 won of 39 seconds of idle time.
International Taxis
The last type of taxi you should know about is the international taxi. These taxis are specifically created and aimed towards foreign tourists.
They have drivers who are efficient in English, Japanese and Chinese and can be spotted with an orange or black exterior with the words "international" painted on the door.
They are a bit more expensive than a regular taxi however but are great to use overall. They charge an extra 600 won compared to the regular taxis base fare for the same km traveled. Not only that but for the distance and idle charge, you only need to pay an extra 20 won for the same length and time.
By Bus
Now traveling by subway or a taxi might be a preferred option for many, bus'es tend to post a difficult challenge for many first timers in Korea.
This is because all the announcements and bus signs are all in Korean. Which can definitely make it hard to understand where you are trying to go.
However even with that said, traveling by bus can be a great deal faster than using a taxi or subway and can also be cheaper as well.
Now bus's come in many different types. They are organized by four colors which are blue, green, yellow and red.
So lets find out what these colors do.
Blue, Green, Yellow, Red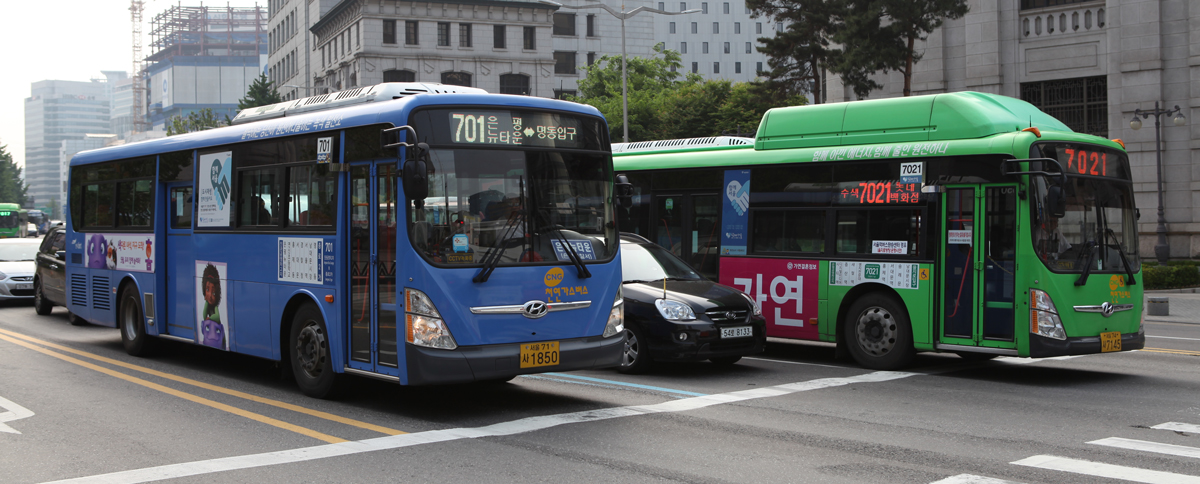 Blue Bus
The first bus we are going to talk about is the Blue bus.
Blue buses are the ones that operate on the main line within the premise of the entire city, connecting various districts among the main route.
Green Bus
The second bus you'll see is the Green bus, which goes on a route much smaller than the blue bus. These are branch line buses that do short runs between major stations and other major "blue" bus routes.
Not only that, but there are also local smaller green buses that run within a single district or neighborhood.
Yellow Bus
Yellow buses tend to operate around the downtown area of Seoul which makes circulated trips around the city's center.
Red Bus
The red bus has the widest operational range out of all the buses because it connects the city of Seoul with all the surrounding areas. They also tend to charge a much higher fare compared to the others since they travel beyond the city's limit to other areas.
Transportation Cards & Passes
To save yourself a lot of time and hassle when you are wanting to travel around Seoul, you should definitely consider picking up yourself a transportation card or pass.
Even if you are only planning on staying in the country for 1 day, it is still worth it.
It's a very convenient way to pay for your fares on subways and buses without the stress of lining up at ticket machines.
And depending on which card you pick, some of them may even be used at convenience stores, bookstores, department stores, vending machines, and pay phones!
There are three main cards/passes that are totally worth it to get:
T-Money Card
T-money card is basically a reloadable card that can be used to pay for public transportation among many other things.
All you do is simply touch the card on the payment sensor upon entering or leaving the subway station or bus.
Not only that, but when you are done using the card, you can even return the card to any metro ticket office to get back the remaining balance of the card.
Seoul City Pass
Seoul City Pass is a pass that is mainly for foreign tourists visiting the country. It allows you to ride the bus or subway up to 20 times a day. You'll also be able to go on and off Seoul City Tour Bus as many times as you'd like.
Seoul City Pass Plus
This is a step up from the regular card and acts very much like a T-money card. It is re loadable card allowing you to add as much as you'd like.
The benefit of using this card over the regular T-money card is that this pass will offer discounts at various tourist attractions. Plus, it will not only work in seoul but anywhere in Korea where T-money is accepted.
_____
As you can see, there are quite a few ways for you to get around the country
Many of these options are also very cheap and affordable.
It all really just depends on what option suits you the best.
Hopefully next time you plan a vacation, you might consider a trip to Seoul and enjoy all it has to offer.
Also if you are wondering what other things there is to do in South Korea, I have some posts for you.
Things To Do List:
Or you can check out all my South Korea posts by clicking here.
Have fun traveling~