What are some of the best free things to do in Osaka, Japan?
After all, Japan is one of the most popular countries in the world to visit. There is simply so much to see and do here in this country that you can spend years wandering around without seeing everything. However because there is simply so much to see and do, it can definitely be costly to try everything.
But it doesn't have to be that way.
There are many ways you can have fun around Japan on a budget. After all, Japan is a pretty well developed country. So it's only natural for many of the Japanese cities to have a good amount of activities that you can do for free.
In this post, we will be focusing on the city of Osaka.
There are an abundance of things you can see and do without having to pay a dime. And we will list them out for you.
10 Free Things To Do In Osaka, Japan
In no particular order, here are the best things to do in Osaka, Japan.
1. Stroll Around Dotonbori
Dotonbori is a place where all the people in the city will come to hang. This place is filled with flashy bill boards and neon signs hovering above. It also consists of many restaurants and shops all around you. While the day time provides a less crowded experience, night time is where this entire place comes to life.
Because this is an open area, it is completely free to stroll around and browse through all that this place has to offer. If anytime you are feeling hungry while strolling around, you might want to go get something to eat. This place is filled with all sorts of different restaurants providing all kinds of local foods from takoyaki balls to ramen to sushi and much much more.
There is even a famous bridge here that crosses over the Dotonbori Canal. Also near the bridge is the iconic Glico Man advertisement which is over 30m tall. Many people come to this bridge to take amazing pictures of the surrounding area and of the Glico Man Ad.
2. Stroll Around Shinsekai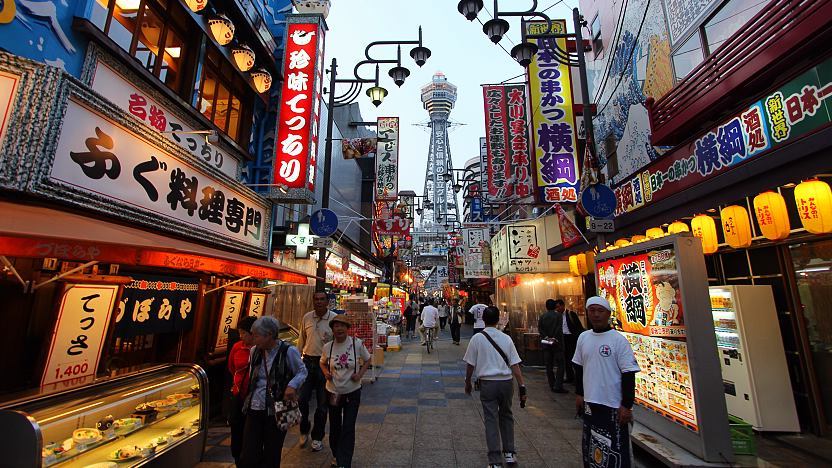 Shinsekai is a place that is pretty similar to Dotonbori, although it is a bit older. It is filled with colorful signs all around the street as well as having many 3D models of different kinds of food and fish hanging around. There is even a tower that was built after the Eiffel Tower in Paris. It's definitely a great place to stroll around in as it offers an assortment of amazing photo taking opportunities. Plus, it is really close to Dotonbori, so you can visit both of them in the same day.
3. Check Out Some Fashion At Amerika-Mura
If you are into Fashion, then you would absolutely love this place. Amerika-Mura is a neighborhood which is famous for it's fashion sense as well as the number of shops here which sells all the latest trends in fashion. It's a great place to people watch as you stroll around and see people wearing all kinds of amazing outfits. It is also really close to Dotonbori, which makes it a really easy place to visit. So if you are in the area, stop by and pick up some unique fashion accessories or maybe a souvenir for yourself or your friends and family.
4. Explore Osaka Castle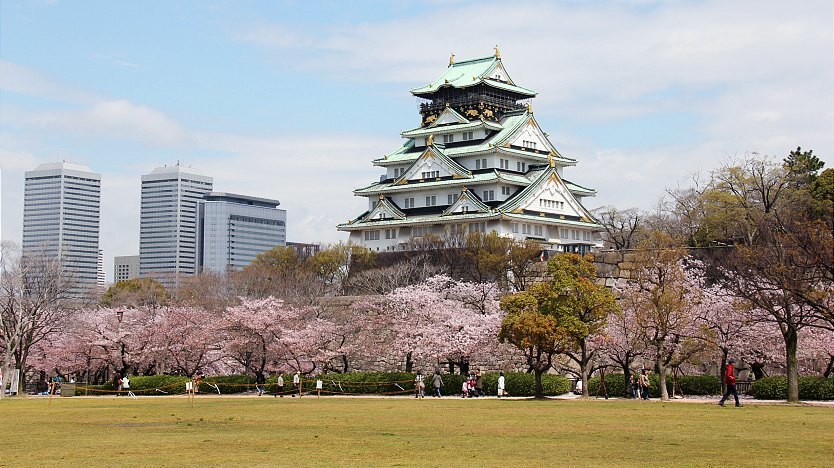 This is probably one of the coolest things you are able to do in Osaka. You get to visit one of the most beautiful Japanese castles that Japan has to offer. The castle has been built in the 14th century and has been rebuilt and restored into what it is today. It is surrounded by a water moat and also the Nishinomaru gardens.
Many locals and tourists will come to this castle and enjoy a nice evening out while taking pictures and eating the local festival foods. Plus, because the castle is so big, you are guaranteed an amazing photo opportunity in almost every corner of the park. Also if you come during the right season, you can even see lovely cherry blossoms all around which makes the area even more beautiful.
Now visiting the castle grounds and the gardens surrounding it is completely free, if you want to go inside the castle and look around, that will cost you about 600 yen.
5. Stroll Through Kuromon Market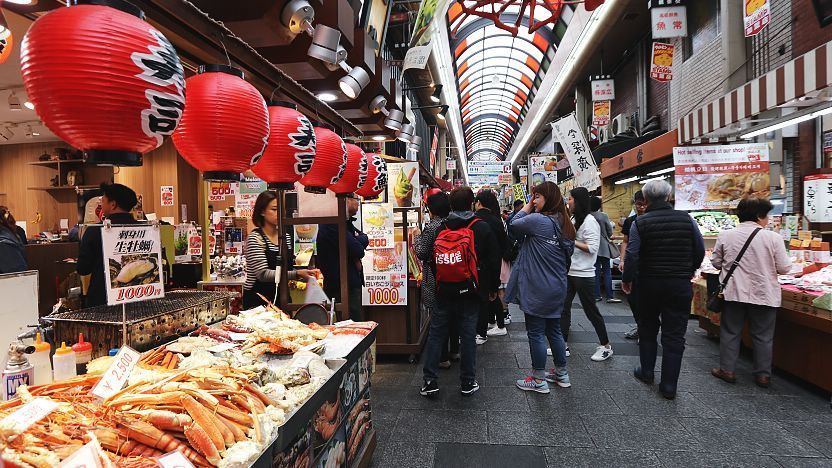 This place is like a food lovers paradise! It is my favorite place to go to anytime I go to Osaka. This whole area is basically a food market that has all kinds of stalls selling a variety of food. Anything from fruits to seafood to even the legendary Kobe beef, you will find it here
It was here that I saw for my very first time a strawberry that cost $20 USD. Let me repeat that! I said ONE strawberry…just one single berry costed $20 USD. And it isn't just expensive strawberries, but they have a whole array of different fruits all at prices more than most people can even afford. It was astonishing!
Now you don't necessarily have to spend any money here while strolling around. But I highly suggest you do, as the food here is so fresh and also cheap! You can eat so many kinds of amazing foods you'll never find back in your home country. Also because the sea is so close by, the seafood here is incredibly cheap! You'll have a wonderful experience visiting this place as you'll get a chance to see and eat many delicious things you probably would never see again once you leave Japan.
6. Visit The Mausoleum of Emperor Nintoku
If you love history, then you'll be happy to know that Osaka is actually home to one of the largest tombs in the world. This tomb is called the "Tomb of Emperor Nintoku", and it is huge! It spans at least 500 meters long and 35 meters high and dates back to about 1600 years ago. The cost of visiting this ancient tomb is absolutely free.
This tomb was built in the shape of a keyhole with a large moat surrounding it. Which kind of looks like a tiny island. Although nobody is allowed to go onto the island, you are able to see the tomb from the many pathways that goes around the moat. There is also informational boards that will tell you the history of the tomb.
7. Check Out The Instant Ramen Museum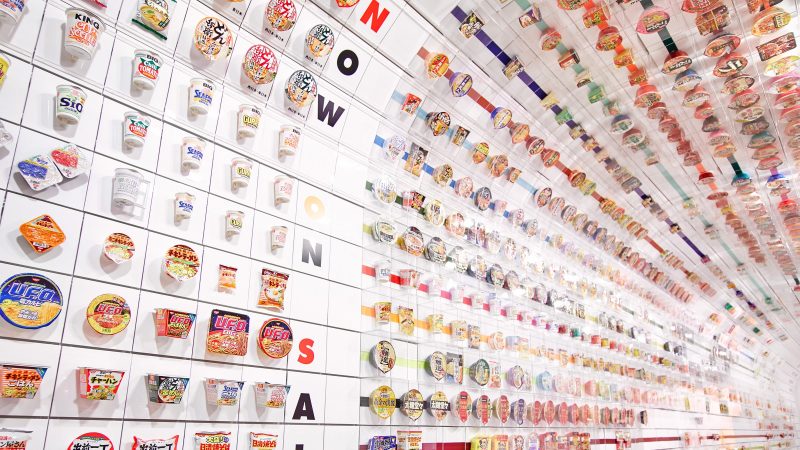 I'm sure by now, it's common knowledge that instant noodles started in Japan. So it's no surprise to see that there is even an Instant Noodle Museum here in this city. This museum is free to visit and you'll learn all about the history of instant noodles. You can even see all the variety of flavors and packing that has gone through the history of instant noodles all through out the years as they have a noodle time tunnel.
But that isn't the best part about the museum.
The best part about this museum is that it isn't just a museum, but also a shop as well. You can buy instant noodles here to eat. But that isn't much fun right? Don't worry, there is something better! You can even make your own personalized cup noodle! For a low cost of about 300 yen, you'll be able to design your cup, pick your flavors and even turn your own dried noodles. After all is said and done, your personalized cup noodle will be wrapped up in a presentation bag for you to take away.
This is something that people and kids of all ages will enjoy.
8. Visit Sumiyoshi Taisha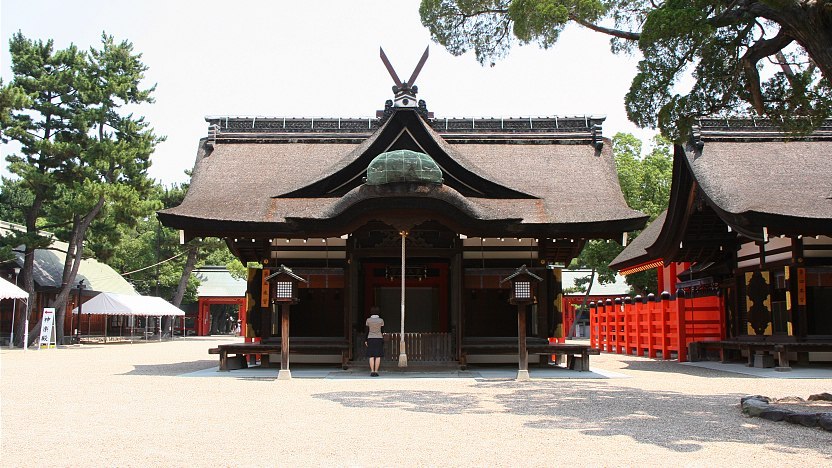 Sumiyoshi Taisha is one of Japan's oldest shrines and was founded in the 3rd century before the introduction of Buddhism. The shrine itself desplays a unique style of shrine architecture called Sumiyoshi-Zukuri, which is free of influence from the Asian mainland.
Once you are inside, you can enjoy the experience of the Japanese culture. Try ringing the bell and saying a prayer to the Sumiyoshi Sanjin, one of the Shinto gods enshrined at this place. Truly a wonderful and unique experience.
9. Stroll Around In Minoo Park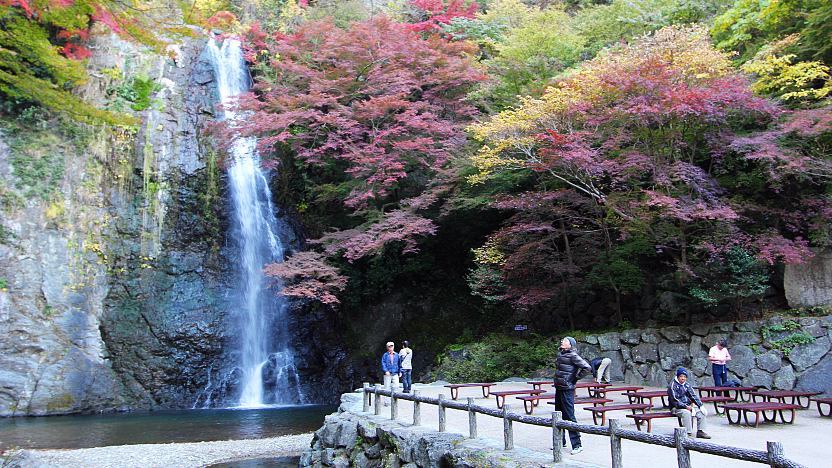 If you're looking for a change of scenery away from all of that city life, then how about visiting Minoo Park. It is a quiet area that is surrounded by forests. A perfect place for some peace and quiet.
If you are interested, you can even do a short hike about three kilometers long which will lead you to the Minoo Waterfall. It should roughly take you about 30 to 40 minutes one way to reach the waterfall.
10. Scavenger For Colorful Manholes
If you are bored and want something to do, why not hunt manhole covers. Yes! That is correct, I said manhole covers. The manholes in Japan are a thing of beauty. Unlike the ones you usually see back in your country, the covers here are decorated in all sorts of uniqueness. With each cover being different from the other.
Many Japanese cities, towns, and villages have manhole covers that are printed with different designs. Not only are decorative manhole covers a creative way of adding an artistic touch to a sidewalk, they also often reveal interesting facts about the area in which they're located.
For example, there could be a manhole cover of the local landmark!
It'll provide you a challenge as you stroll around looking for all kinds of man holes. It's a neat little thing to do when you have nothing else to do.
Extra: Stroll Around Umeda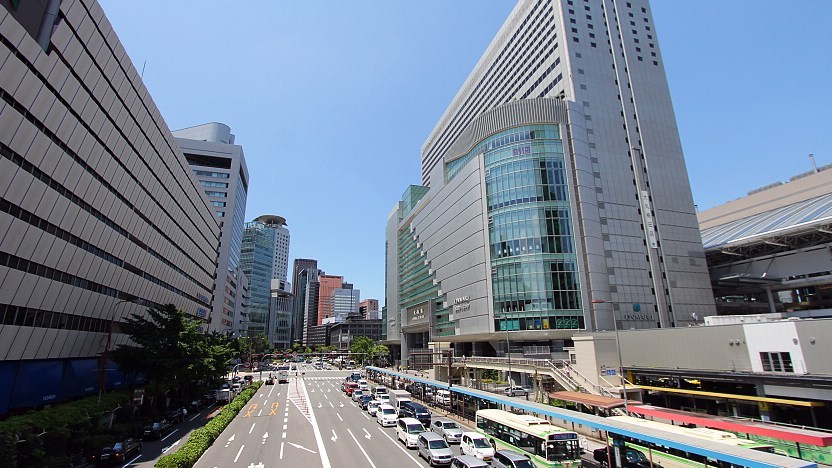 Umeda is a fascinating place as it offers an abundance of shopping, dining, lodging and entertainment, including several department stores and an expansive network of underground shopping malls.
Stroll around through these buildings and see what each of them has to offer. The Daimaru building is my favorite as it has the awesome Pokemon store located inside it.
______
Overall, visiting the city of Osaka, Japan doesn't have to be an expensive trip. In fact, as you can see from this list, there are quite a few things for you to see and do for free here in Osaka.
So hopefully this post about "Free things to do in Osaka" was able to help you in some sort of way. This way, if you are ever going to visit the city of Osaka, you'll know exactly what you could be able to do for free here in this city.
Also, if you are planning to visit Japan anytime soon, you might be interested in some of my other Japan posts.
Or you can check out my complete list of things to do in Japan by clicking here.
Have fun traveling~