What are some of the best foods in Taiwan you must try when you visit?
After all, when you're thinking about food, there is one place in particular that you have to go to. That place is Taiwan. There is so many things for you to see and do here in this amazing place. This country is filled with beautiful scenery, a bustling culture, and an abundance of delicious food.
Which is why I thought it would be great to write about all the special kinds of food you can find here in Taiwan. These foods are extremely tasty and also hard to find in other locations around the world. Best of all, you can find all the foods I listed in almost every city you go to in Taiwan.
Foods In Taiwan
Taiwan is known to have an amazing food culture. It carries traces of food from all different regions of Asia. After all, it's neighbors include Japan, Korea, China, Philippines, etc. So it is bound to have many delicious and tasty foods to eat. However Taiwan's version of the food is actually pretty unique and can't be found anywhere else.
In fact, food is so special here in Taiwan, that they even have night markets for them. It is a special place where you can eat all night long. For those of you that don't know. Night Markets are basically a place filled with many street vendors selling all kinds of Taiwanese food imaginable. You literally can't find anything like this anywhere else around the world. And it's not just food they serve here, but also tons of merchandise as well as entertainment.
Almost all the foods that i'll be listing here in this post can be found in the many night markets all around Taiwan.
If you want to know more about night markets, then check out my post about night markets in Taiwan.
So whether you like eating tasty things or just like sampling something new. Hopefully my list of the "Top 15 Foods You Must Try In Taiwan" will help you out.
15 Delicious Foods In Taiwan
In no particular order, here are the best foods in Taiwan you must try when you visit.
Taiwanese Fried Chicken
As you know, every country has their own variety and take of the classic fried chicken. And the Taiwanese are no different.
In Taiwan, you can find the fried chicken specialized into two different ways.
One you are most familiar with which is called "Popcorn Chicken" actually has its roots come from Taiwan. The small delicious bite sized pieces of juicy tender chicken with a nice crunchy exterior. Yum.
Another type of fried chicken they do here is where the chicken is flattened out into a big chunky piece. In fact, some places make the chicken as big as your face.
And the taste for both of these types of chicken is top notch as they come in a variety of different flavors.
Soup Dumplings
If there is one thing you have to try in Taiwan, it is the soup dumplings. These delicious dumplings are filled with juicy meat (more commonly pork) wrapped inside a nice fluffy bun. The reason they are called soup dumplings is because inside the bun, they'll also add a cube of soup inside which when heated up, will melt into soup. This way when you bite into the bun, you will not only be eating the bun, but drinking the soup as well.
One place in particular that specializes in soup dumplings is a place called Ding Tai Fung. They carry a variety of different soup dumplings each filled with different types of meat.
Scallion Pancakes
If you're looking for a perfect snack to eat on the go, any time of the day, then go get yourself some tasty flaky scallion pancake. It actually looks like a grilled flatbread more so than a pancake, but it can be eaten in a variety of ways. You can eat it by itself or even have it filled with many delicious toppings such as eggs, cheese, ham, etc. It is a staple in the Taiwanese way of life.
Braised Pork With Rice
This is a staple dish that you'll find all throughout Taiwan. It is a simple dish consisting of rice and braised pork. Depending on where you go to get this dish, it will usually come with other ingredients as well. The soft fluffy rice mixed with the soft tender pork will bring you much comfort as you eat this dish.
Candied Hawthorn Berries
This food is actually served all throughout Asia. However you can try Taiwan's take on it. These berries are kind of small and tiny tart looking spheres that look similar to a crab apple. The vendors will stack several berries onto a bamboo skewer and coat them in caramelized sugar. The end result is a sweet yet crispy bite that is also chewy and a bit sour. It's a pretty unique treat if you never tried it before. To be honest, they kind of remind you of the caramelized apples we have here in the US.
Beef Noodle Soup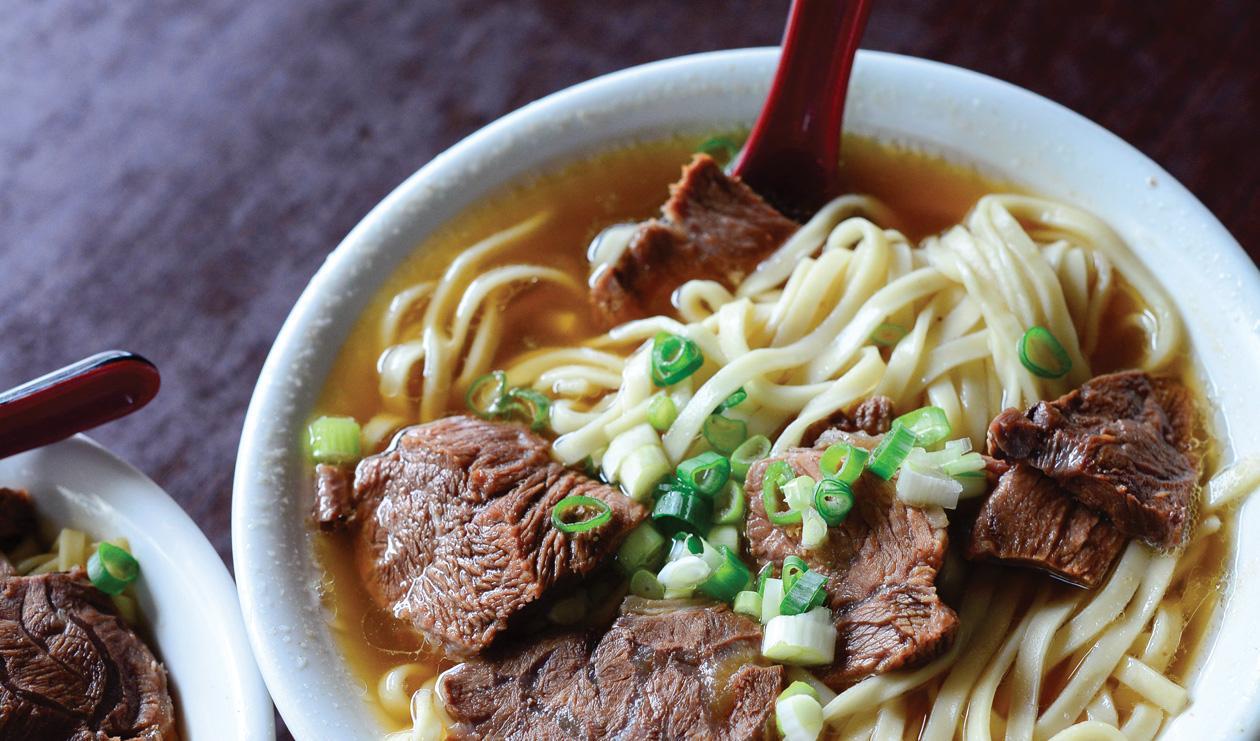 Taiwanese Beef Noodle Soup is a prized national dish of Taiwan. It is a must try thing to have if you ever visit Taiwan. The noodles are long and tasty with a bit of a chewiness to it as well as the beef being oh so tender and juicy. Finish if off with the aromatic beef soup. You'll feel like you went to heaven. A lot of work goes into making these great tasting beef noodle soups. With each vendor having their own style of making these dishes. So definitely go around and try as many beef noodle soup as you possibly can.
Gua Bao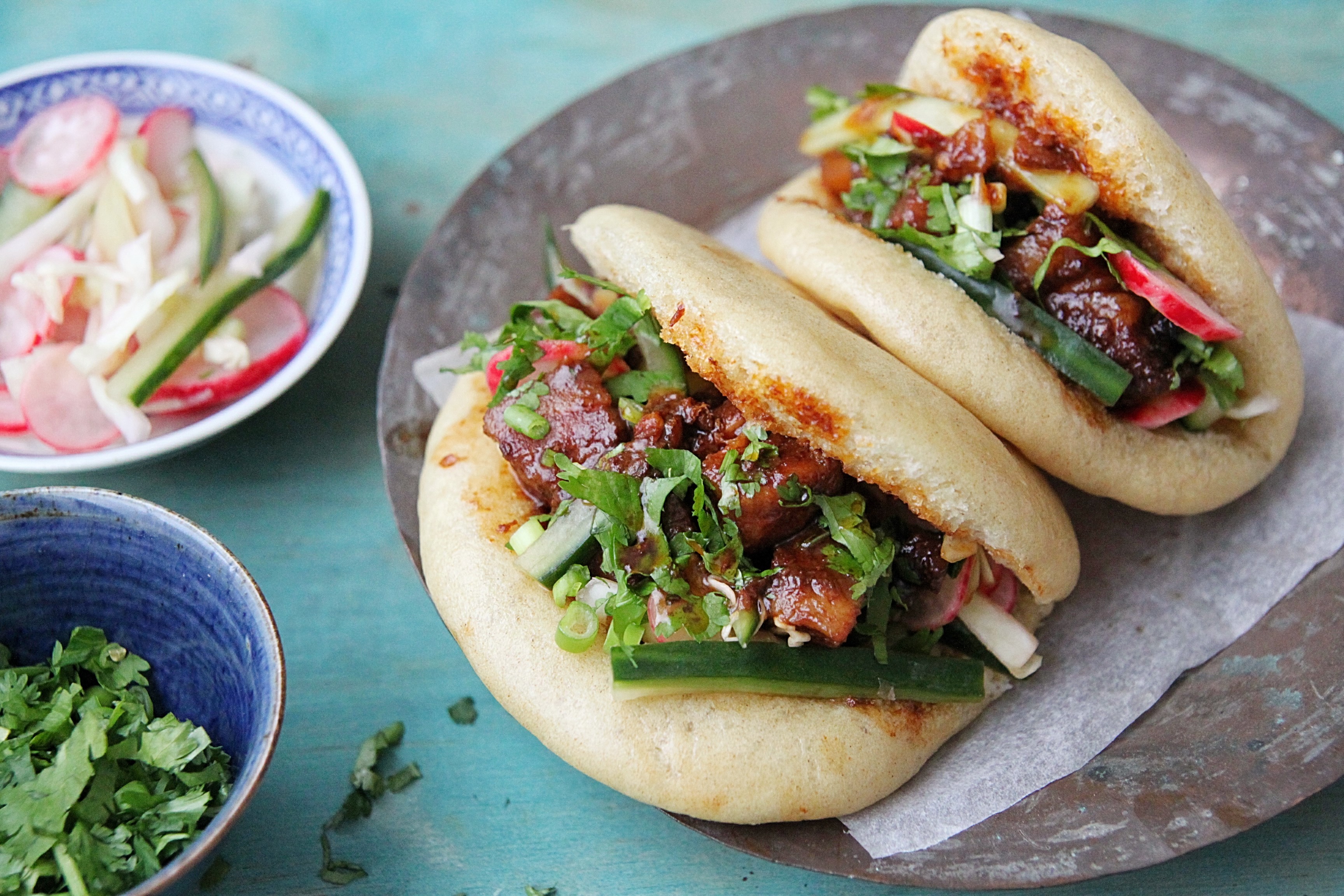 Gua Bao is one of Taiwan's most popular dishes that many people love. It is a snack that is starting to pop up all over the world. Basically it is similar to a hamburger in which it consists of a fluffy bun that is filled with meat (usually pork), and is topped with all kinds of vegetables like pickled mustard greens, crushed sweet peanuts, and coriander. You can find these baos all over Taiwan and it will leave you happy and content.
Oyster Omelet
Oyster omelet is a classic dish that you have to try in Taiwan. These yummy and delicious omelets are filled with tons and tons of oysters. It's basically like eating oysters with a side of egg. You definitely will not be disappointed with this dish. It's extremely thick, and also filling that will keep you wanting more and more.
Turnip Cake
Turnip Cakes are probably my all time favorite foods to ever eat. They are just so so tasty. Basically it is a cake made out of turnips and gently fried. When you bite into it, you'll get a nice crispy crunch from the outside and soft gooey goodness on the inside. It is delicious! You definitely have to try this. Most restaurants will also pair this up with sweet soy sauce to give it a savory taste.
Pork Pepper Buns
These delicious buns which are commonly found in Night Markets throughout Taiwan are so insanely tasty. Basically it is a black pepper bun filled with usually a pork/black pepper mixture. Different vendors will add their own specialties inside which can include other spices or even spring onions.
One of the most popular places to get these is at a vendor in Raohe Night Market. The pork pepper buns there have amazing black pepper taste as well as a juicy and tender meat. Plus the outside bread shell is lightly crispy yet also chewy. It makes for a fantastic meal.
Stinky Tofu
Stinky tofu is a famous item to get when you are in Taiwan. It is basically tofu that smells pretty bad. Now I know that this might turn off a lot of people, however I assure you that it is definitely delicious. It is a fermented tofu which can either have sauce or no sauce on it as well as some vegetables. It's definitely a unique dish that everybody needs to try.
Milkfish Porridge
This is a traditional breakfast that many Taiwanese people will eat. It is essentially a very ricey soup with a whole bunch of fish chunks in it. The dish can be served plain with just rice porridge and fish or it can be given with an assortment of condiments mixed inside. It has a pleasant taste that makes for a great way to start your morning.
Pineapple Cake
If you want to try a nice flavorful desert, then how about pineapple cake. It is a traditional desert that all Taiwanese people love. It is soft on the outside with a gooey sticky interior that will have you craving for more bite after bite.
Often times these are given as souvenirs or gifts to other people so you can usually find these packaged up inside shops to sell.
Boba/Bubble tea
If you love bubble tea, then why not come to the homeland of bubble tea. This is where the drink was created. No matter where you go in Taiwan, you are bound to find a shop selling this amazing drink. Try the original milk tea with boba drink or you can opt to try the many other variety of flavors the shops might have. Overall, you will be impressed by the quality of the drinks here.
Shaved Ice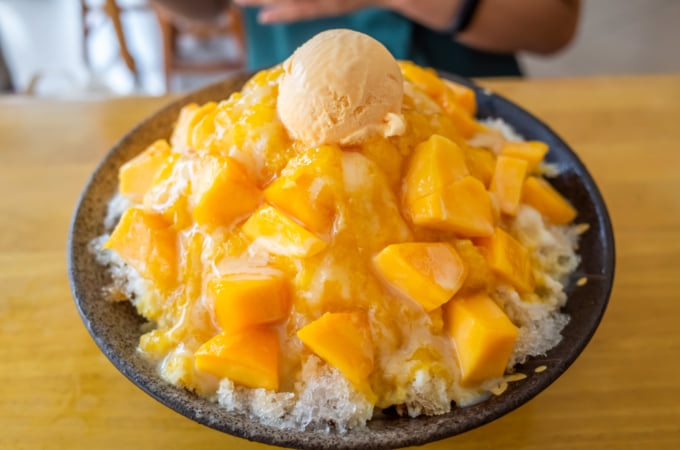 Now I don't know about you, but I personally don't like the shaved ice we have in America. They are basically snow cones. However in Taiwan, this is different. They take things to a whole another level. They make the shaved ice into a towering mountain filled with condensed milk and all types of fruits. They are so huge that you most likely will have to share it with another person in order to finish it. It is really a delight to eat.
______
As you can see, Taiwan has an abundance of amazing and delicious food. If you ever decide to visit this beautiful country, you have to make it a priority to try as much food as you can because it is unlike anything you have ever eaten before.
So hopefully this list is able to help you out and give you suggestions on what foods you should look for and try when you are in Taiwan.
Also, if you are planning to visit Taiwan anytime soon, you might also be interested in some of my other Taiwan posts.
Or you can check out my complete list of things to do in Taiwan by clicking here.
Let me know how your trip goes!