What are some important things you'll want to bring with you on your Japan Trip?
After all, packing the right things can be crucial for any trip.
Often times when we bring items, we tend to just pack just the common items like a toothbrush, towels, clothes etc…
However depending on the destination that we go to, it might not be enough. Not having the right items to use or wear in another country can be devastating. Especially if the country is prone to heat waves, rain, earthquakes, tsunamis, etc… Which is why you must do your research and pack the right items.
Now Japan is a place of wonders.
One of the most popular destinations in the world. It's also pretty far away from many of us. Which is why before you take that long trip, you need to get all your packing done right. Which means bringing the right items. You don't want to waste your precious vacation time searching for items that might take up an entire day or longer.
However how do you know what to bring?
After all Japan is a pretty big place.
Well don't worry because we got you covered. We collected a list of items that are recommended for seasoned travelers to help you have a better trip.
1. Bring both Cash and Credit card
It might sound weird saying to bring both your cash and also your credit card, however it's important to know that sometimes just having one or the other isn't enough.
Both of which are equally important.
Quite a few times tourists who visit Japan found out that they couldn't pay for shopping, restaurant bills, etc.. with just a credit card. Sometimes it's a cash only place. In fact, Japan even though it's so advanced, still considers cash to be king.
ATM's are also pretty hard to find around the country, so it's probably best to get some cash exchanged earlier on your trip before you start sightseeing and doing things. If you do in fact have to use an ATM, then you can usually find them at local 7-Elevens or a Japan Post Bank branch. Although do keep in mind that most ATM's have limits on how much you can withdraw on a single day. So be prepared as most will limit the withdraw to around 100,000 yen, though this can vary depending on which area you are in.
You want to generally have a decent amount of yen on you to last the entirety of your trip.
Now you don't have to worry about being mugged or anything in Japan if you carry too much cash, simply because Japan is a relatively safe country. Crime is pretty rare to see.
2. Get a SIM card or portable wifi
Whenever you are out traveling regardless of location, having access to the internet and phone calling is important. It allows you to access the web and find important information anytime you need. Not only that but you can make phone calls in case you need contact somebody.
However your regular sim card might not be practical as it might not work in other countries or the roaming fees will be crazy expensive to use.
Which is why you need to get a Japanese sim card or portable wifi. There are many places where you can get these things at reasonable prices, and you can also order it before you get to Japan. If you can't get it before you go on your trip to Japan, then you can simply get it at the airport and they'll help install it for you.
This way you can enjoy your trip without having to fear of having no access to the outside world.
3. Download useful apps
In this day of age, we are fortunate enough to have access to so much information that's easily available to us.
This is another reason why having access to the internet wherever you go is important for traveling.
One of the most important things that you can download is called a translation app or phrasebook. Now technically it's best to download it before you go on your trip so that you can get use to it. A translation app can work wonders for you and save you so much time because you can use it to help translate whatever words you need. No longer do you have to find people and ask them for help. You can do it all yourself.
Other useful apps include things like:
Transit maps (e.g. Google Maps or Japan Navitime)
IC cards and train reservation apps (SuicaEng, EmartEX)
Ride hailing app (e.g. JapanTaxi)
Earthquake alert (e.g. Yurekuru Call)
TripSocket
Weather app
4. Get a power bank
Our mobile phones are one of the most important pieces of equipment that we carry around with us. However one thing that nobody likes is that the phone battery will be drained down pretty quickly after using it for awhile.
Which is why having a rechargeable power bank is essential as it allows you to use your phone for longer periods of time. And trust me, you will definitely WANT to use a power bank as there's just so many things to see and do in Japan, you'll constantly be using your phone. So a power bank is a life saver.
Not only that but make sure you get a USB power bank. This allows you to charge your other electronics in case of emergencies.
5. Bring an electrical adapter
Electrical adapters are a pretty important thing to have if you are from certain countries. This might seem weird however because why would you want to bring an electrical adapter? Can't you just buy it in Japan.
Well unlike some countries, in Japan it can be hard to find a Japanese adapter that works with some Spanish or British plugs, especially in the country side or at late night in Tokyo.
Now if you are coming from the United States or Canada, then you don't really have anything to worry about as Japan runs on a 100 volt current so you'll be fine. However do note that 3 prong outlets are not commonly found in Japan and you may want a slimmer adapter if you are going to bring a laptop or other device.
6. Japan Rail Pass
If you ever go to Japan, then one thing that is a must have when traveling there is something called a Rail Pass. It is one of the best things ever made.
However you need to buy the pass before you arrive in Japan. Though you may be lucky enough to find some stations in Japan that sell the rail pass, but more likely than not you'll have to get it before you come here.
Passes are sold as either a one week, two week, or three week tickets, and they allow you to use the Shinkansen to travel the entire length of the country, as well as the use of all JR lines in Tokyo plus the Narita Express train between Narita airport and Tokyo.
However, it's important to note that before you get the pass, it is best to run your itinerary through google maps or something to see the price differences between all the modes of transportation and see if it is in fact feasible to get a Rail Pass.
Now if you are going to be traveling a lot like from Tokyo to Kyoto, than the Japan Rail Pass might make sense for you. However if you are just going to be staying in a single area like Osaka/Kyoto or Tokyo than a day pass or regular train ticket might make more sense for you.
7. Wear the right clothes
Normally this doesn't really need to be said as it is just common sense to bring clothes. However for Japan, you have to try a bit harder than just bringing regular pieces of clothing since the weather here is quite different.
For instance, in the summer it can get extremely hot, and in the winter it can get extremely cold. Things like heavy snow in the north to mild temperatures in the south. It can get very confusing if you are staying in just one spot. For instance, you might feel super cold in the winter in Tokyo so obviously you would dress up super warmly. But then you head to the train station or grocery store and you will be a little TOO warm.
So the best tip I can give you is to make sure to check the weather constantly, and bring clothes that'll go well with the temperatures.
8. Make space in your suitcase
Japan is one of the top tourist destinations in the world.
There's just so much to see and do here that you almost never want to leave.
With so many things here, you are bound to try to bring back as much things as you can back to your home country. Japan is like a haven for shopaholics as there are TONS of shopping stores all around the country. You are bound to find many things that you would want to buy, such as traditional crafts, sweets, and many more. You might also want to bring souvenirs to your friends or family. which is why having enough space in your suit case is essential.
Or better yet just bring an extra empty suitcase for this purpose.
9. Bring the right shoes
Wearing the right shoes is very important in Japan.
This is because you'll be doing quite a bit of walking everywhere you go. In fact, many people will often say that they walked way more in just one day in Japan than probably a whole week back in their home country. Japanese people love to walk, and having the right shoes will definitely help you out. So get a good pair of comfortable walking shoes that won't leave your foot all blistered up or bleeding after walking many miles a day.
Also you might find shoes with shoelaces can be quite a hassle sometimes. This is because in Japan, there are many areas such as restaurants or traditional temples and other places where you have to take off your shoes. So having a pair of shoes that you can easily slip on or off without worrying about the shoelaces can be very beneficial.
10. Bring a raincoat or umbrella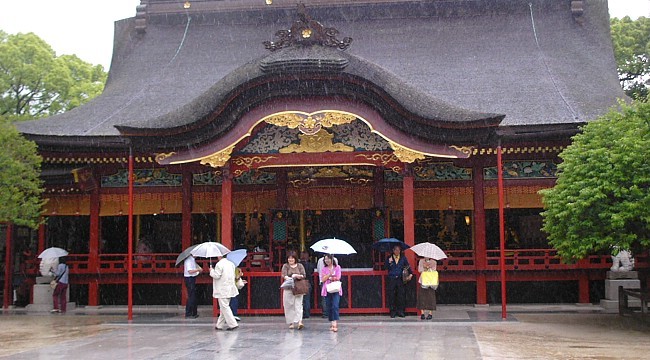 This tip is situational as it really depends on the weather.
As you know, Japan is a country that is prone to typhoons. Most commonly affected around the time of March to October, and peaking around August to September. During these times, you might get some rain every now and then. So to keep yourself warm and dry, its recommended to bring a raincoat or an umbrella if you do decide to travel around those times.
---
As you can see, having the right items can be very important when you travel. Especially in a place like Japan where one wrong thing can be pretty bad.
So hopefully these tips help you and make you a better prepared traveler when you go on your trip to Japan.
Also, if you are planning to visit Japan anytime soon, you might be interested in some of my other Japan posts.
Or you can check out my complete list of things to do in Japan by clicking here.
Let me know how your trip goes!